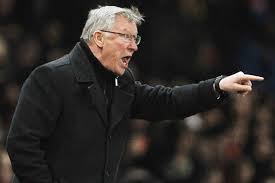 This summer saw Sir Alex Ferguson retire as manager of Manchester United, much to relief of his rivals and some members of the national press who he regularly crossed swords with. But his departure has failed to benefit the Manchester giants, in fact its done nothing but bring chaos and dismay to the current Manchester United team, much to the delight of Ferguson's old enemy's such as Manchester City, Arsenal and Chelsea, but none more public or personal than Liverpool football club.
When Ferguson took charge of united in 1986 he wowed to end Liverpool's dominance of English football, by the summer of 2013 when he finally retired, he had achieved much more than just ending Liverpool's reign, he was Britain's most successful manager of all time, and regardless of tribal alliances you cannot discredit or dismiss such an achievement. He built a team from the depths of obscurity to a club that has dominated the domestic game and has become part of europe's elite for the best part of two decades. But there are signs that united's stranglehold of superiority is loosening at an alarming speed, David Moyes took over the united hot-seat in the summer after leaving an 11 year trophy-less spell at Everton, a move that Ferguson recommended and endorsed.
It was always going to be a massive and unobtainable expectation to believe that Moyes could keep united rooted at the top of English football in his first season. The former Everton manager has found life increasingly difficult at Old Trafford, David Moyes is a fine manager, but his inexperience of commanding a regular title winning team with such high expectation's and demands, at both domestic and european levels are exposed by even the lower and less formidable teams of the Premiership week in week out.
It is not to say that Moyes cannot turn around his fortunes at united, but time is not a common asset most clubs in modern day football allow, especially given the riches of the champions league and how difficult it is to attract the players needed to compete for a top four place if your no longer part of it. A clubs name and history no longer play a vital role when it comes to capturing the right personnel, most top players generally move to clubs who can offer champions league football or at least are in the running to qualify for it.
This is where Moyes may hit a brick wall, if united fail to qualify for next seasons champions league then Moyes could find himself with a bombardment of transfer requests from his finest players with little or no chance of replacing them with the same quality.
Something has gone fundamentally wrong at united at present, but with the players that are currently available and with the talent they contain, you simply cannot write them off, because collectively the players at united are more than capable of producing title winning form. But the question of why they are almost out of the title race by early December should be more directed towards the club itself, should Moyes have joined united two years ago as an assistant under Ferguson to learn about the club, players and the pressure that comes with such a responsibility of managing Manchester United? It also must question the owners expectations, why bring in a manager who has never won a major trophy into a club that has just won its 20th title? Its a decision that at present looks to have backfired on a catastrophic scale.

The consequences of united failing to get a top four spot would be devastating for the club financially and humiliating for Ferguson personally who gave Moyes his backing both privately and in public.
Its my opinion that united as a club deserved better, their fans deserved better as did the players, its not a disrespect to Moyes, but I feel he needs more time that's available for him to stand any chance of mirroring Ferguson's success. But there is one thing that has come out of Alex Ferguson's departure, and that is that the premiership is no longer a one horse race, no longer is it a boring predictable yawn, its now an exciting, unpredictable title race, exactly what was needed to bring life back into the premiership that became stale and continually predictable. A testimony itself to Ferguson's reign and success.
One of the teams that look to have capitalised on united's temporary downturn are Arsenal, who look real contenders this time around, but the gunners have been here before and thrown it away time after time in the latter part of the season. Wenger knows he stands a real chance of ending his trophy drought this season, Arsenal fans know they will probably never have a better chance to win the title than this year, and Wenger knows it too.
Chelsea with there "special one" back don't seem to be firing on all cylinders at the moment, but are right were they need to be to challenge when the time is right, the blues are no longer able to dip into the transfer market with £100m kitty but still manage to attract top players to keep their mandatory top four status.
The other half of Manchester is blossoming while united stumble, Manchester City are title favourites and rightly so, they are finally starting to show signs of recapturing the form that brought them the premiership title two seasons ago. One thing that City have over other contenders is their squad, its one that seems unaffected by change and one that works, regardless of what personnel are playing.
One team that Alex Ferguson wouldn't want to see above his beloved united is Liverpool, who under Brendan Rodgers look finally ready to rejoin the footballing elite after years of being in the wilderness of champions league exile, the Merseyside giants have been a real breathe of fresh air so far this season, with the likes of Coutinho, Sturridge and of course the marvellous Luis Suarez, who have all contributed in producing the best attacking football seen this season by any team in the premiership. The reds have suffered since losing their champions league place four years ago, they lost fine players as a result and never managed to replace them, which is exactly what Moyes may face if united fail to qualify this season.
Rodgers seems to have Liverpool playing the right type of football again, but with the loss of captain Steven Gerrard who could be out until mid January with an injury and a very tough set of matches over the Christmas period only emphasises the need to sign a big name midfielder in the upcoming transfer window, Liverpool need to sign and sign well in January if their ambitions to rejoin the footballing elite are to become a reality. The european footballing community need Liverpool back in the mix as does the premiership.
Rodgers knows Liverpool are travelling on the right road, but they are still one or two signings away from launching a real or sustained title challenge, but that could and probably will all change come the end of the January transfer window.