---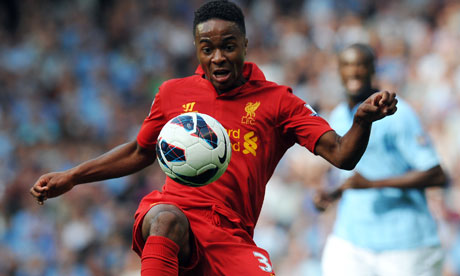 It's never nice to see a man lose his job, especially around Christmas, but it goes to show how powerful Liverpool's performance was at White Hart Lane on Sunday.
There were a number of issues that led to Andre Villas-Boas's dismissal as Tottenham manager on Monday morning, of which Liverpool's display was the final nail in the coffin, and the news has led many to focus on the demise of the Portuguese's tenure than that of the classy performance of the Anfield club.
Not many sides in the Premier League will win 5-0 away from home this season, not even when top visit bottom, and Raheem Sterling's goal to complete the rout was Liverpool's fourteenth in three games. Impressive.
What is just as impressive is the aforementioned Sterling now seemingly winning his place back in a Liverpool side that he was a constant fixture in twelve months previous.
His goal was richly deserved for a display that saw Tottenham full back Kyle Naughton subbed off at halftime due to the persistent punishment handed down by the 19-year old. It was a performance that was back to the old Sterling, if there is such a thing, where he was running at full backs with confidence, linking well with Suarez and co. around him and getting his name on the score sheet in the process.
His 2013/14 season threatened to be one of constant frustration at the beginning as starting berths became less frequent and performances were less than fluid from the previous campaign. Being played in an unfamiliar wing back role didn't help but overall the excitement of seeing Sterling play had vanished, it looked as if he'd been struck down with second season syndrome.
However, the last two weeks have seen his confidence lifted and his performances back to their best. Like Liverpool themselves, he failed to shine in the defeat at Hull City but came back strongly in the fixtures against Norwich City and West Ham, scoring the fifth against the Canaries too.
Prior to the recent run of fixtures it would've been hard to argue against sending Sterling on loan in January for some much needed first team experience but, and no doubt to Brendan Rodgers delight, his form and swagger has picked up at a time when Liverpool find themselves coping with injuries to some star names.
There's no doubting Sterling's promise and his capture at such a young age will go on to save the club millions in transfer fees in the future. It is how he continues to progress during his development that will show how much of a talent he will go on to be. These early years are crucial for him. For inspiration he need look no further than the team sheet on Sunday, notably at the no.38 claiming the left back spot as his own.
Jon Flanagan came into the side under Kenny Dalglish but found himself quickly back in the reserve/U-21 set up under Brendan Rodgers. To describe Flanagan's talents, they wouldn't
necessarily go hand in hand with the philosophy Rodgers is trying to put in place as surging runs up the wing and clever interplay are not exactly his forte.
However, injury to Jose Enrique and a seemingly lack of complete faith in Aly Cissokho has seen the Liverpool born defender find his way back into the first team. His performances since his return have been gradually more impressive, highlighted by praise from Steven Gerrard following his display against Everton. The 20-year old has clearly gained confidence since his return to the starting XI and his goal on Sunday, possibly the best of the day in terms of technique, only added fuel to that fire.
Should these two promising talents continue to show their best form on a regular basis then they could, hopefully, be amongst many more memorable Liverpool results in the coming years.