by @CMMagnusson
Pressure.
It takes many forms and shapes and has budged most of history's greatest men and women. It can come in the form of vomiting, shaking, under-delivering or, for a lucky few, immense concentration and skilfulness. Captaining Liverpool Football Club is a commitment which undeniably would put pressure on most people. Luis Suarez is not like most people.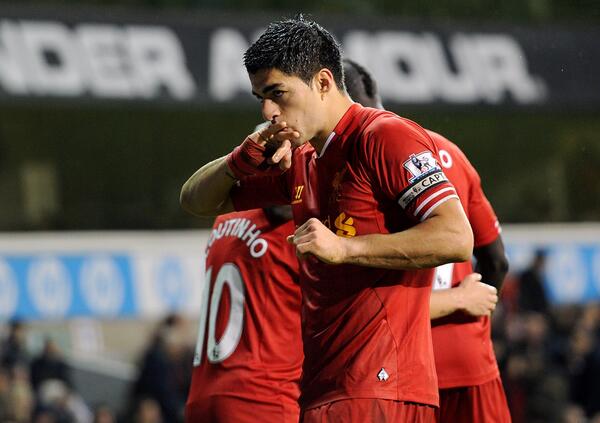 After a scandalous few seasons at Liverpool, although close to always delivering on the pitch, the Uruguayan was given the chance to captain the reds against Tottenham on Sunday following Steven Gerrard's injury. I will admit that I was not entirely sure about the decision. Sure, in terms of symbolism it was a respectable move to show that all is forgiven and that Suarez  is fully accepted as an essential part of the club. But Luis Suarez, a captain? A number of times he has shown obvious discontent and irritation towards his teammates which has damaged his own performance. Needless to say, these are not attributes you look for in a captain, which is why I was doubtful. But just as so many times before, the, in my opinion, best player in the world, proved me (and I dare say 'us' because I know I was not alone) wrong. Throughout the game, Luis Suarez did not show a glimpse of selfishness, and gave substance to his speech on the FSF Player of the Year award ceremony "it is not important to me if I score or not, what is important is that Liverpool win".
And what a win it was. In their 0-5 win at White Hart Lane, Liverpool completely demolished the Spurs with a brilliant team effort, and, unsurprisingly, Luis Suarez was one of the main men behind the wheel.  What astonished me was how Suarez seemed to inspire the entire team. Take Raheem Sterling as an example. While he obviously has great talent, he has too many ups and downs. On Sunday, however, he was completely on top of his game constantly over 90 minutes, and the same goes for Jordan Henderson (even is he is far more consistent) and a lot of other players. When all is said and done, however, the most obvious sign of Liverpool's success as a team must be the fact that Jon Flanagan scored (and quite some goal, I might add) – and the mutual celebrations afterwards. Suarez immediately ran up to the invincible englishman who had just half-volleyed the ball into the back of the net to celebrate (joined a few seconds later by the rest of the team, which obviously made young Jon, uhm, happy).
That Luis Suarez is essential to Liverpool is no secret, and never has been. The fact he has world class qualities as a team leader as well, and his importance to the performance of the rest of the team, however, is not highlighted as often. On Sunday, Suarez showed us that he is more than an omnipotent, goal scoring machine. He is a team player.
@CMMagnusson