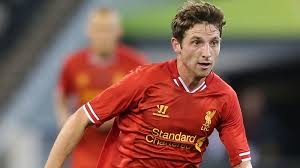 Joe Allen cost £15 million, was linked to some 'big' clubs, including Arsenal and AC Milan, but ultimately wanted to follow Brendan Rodgers to Liverpool.
Liverpool worked hard to secure Allen, even paid over his perceived market value to get him. He was pivotal to the Rodgers 'vision' of how he wanted his Liverpool team to play.
It was expected by most who observed, that he would be a central figure in the new look Anfield midfield, likely sitting alongside Lucas in the middle, pulling strings and creating space for Gerrard.
It started well for the first 8-10 games , then Lucas got injured and Allen was asked to play a little deeper and be more combative, which ultimately affected his passing game and confidence. His form dipped dramatically and coupled with an ongoing shoulder injury he lost his place in the team. As the media like to do, question marks appeared, is he good enough etc? Then most fans started to ask the same.
So 18 months into his career and after another injury, can Joe Allen make it at Liverpool?
Statistics are statistics, and when talking Joe Allen, most will quote his pass completion rates. This is great, but does paint a one sided picture. Statistics don't show positioning or how insisive a player is before the 'assist', they can also cover up deficiencies. Now we all know Joe Allen can pass, usually short and simple, we also know he barely gives the ball away, integral to Rodgers style of play. Liverpool have 4 central midfield players vying for a start week on week. Gerrard is a lock for one of them, and the way Jordan Henderson has played this season, it's hard to see him out of the team either. This leaves one spot and direct competition with Lucas Leiva, a pivotal player in recent years.
Joe Allen has a lot to offer, if Gerrard is now going to play deep and hold the midfield, does this naturally create a space for a Joe Allen? He is far more creative than Lucas and an ideal foil for Gerrard.
It looks like Allen could start against Aston Villa on Saturday at the expense of Lucas. This has to be the time to seize his chance and take the shirt. The caution is, there cannot be many more chances left for Joe Allen.
By Chris Hutchins