---
By: Fortune Achonna @Fortuneachonna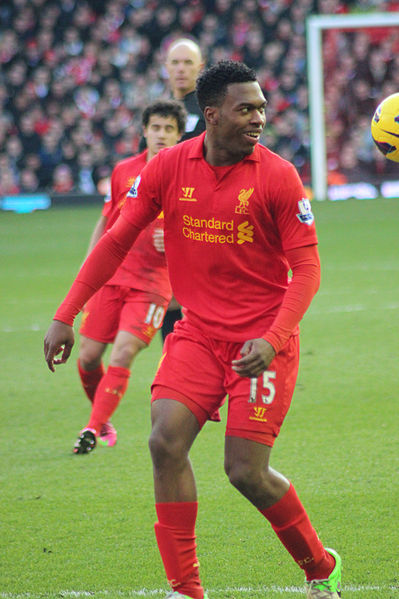 What will it take for Daniel Sturridge to be recognised as a world class player? I pose this question because wherever the striker goes, fans and pundits alike are quick to relegate his feats behind his more famous counterparts. In Liverpool that is Luis Suarez and in England it is Wayne Rooney.
Sturridge's situation at Liverpool is quite understandable. As good as Sturridge has been this season, Suarez has been out of this world. He always had the talent, but now he has the unerring consistency to match Cristiano Ronaldo and Lionel Messi.
The duo may form the partnership SAS, but Suarez's contribution is the greater of the two. The perfect example can be seen by how Liverpool fared when Suarez was out due to suspension, compared to how they did when Sturridge was out with injury.
When Sturridge was the focal part of the attack he was clinical, needing only one chance to score a goal. The goals he scored were vital because in the the first four games, Liverpool were blunt in attack and needed stellar work from the back four to secure the points.
When Suarez came back, Liverpool's solid back had been shot to pieces; nonetheless this rarely mattered due to Suarez's superb form during December. When Sturridge was out, Suarez was directly involved in 15 of Liverpool's 22 goals. This is what makes Suarez better than Sturridge: Suarez has a way of enabling everyone around him to up their game; whereas Sturridge is more about finishing.
No shame should be taken in this. As already stated, Luis Suarez is in a unique league of his own along with Messi and Ronaldo.
Where it gets baffling is when Sturridge is rated beneath Rooney and in a manner that suggests Sturridge is not even in his class.
This season Sturridge has scored 14 goals and assisted 3 in 16 games. Wayne Rooney has scored 9 and has assisted another 9 in 19 games. These are very identical statistics weighted in Sturridge's favour due to him playing fewer matches.
Of course Manchester United have endured a poor season, but Rooney has arguable put in one of the more consistent performances of his career this season.
The erase all doubt, last season Manchester United won the league at a canter, Rooney scored only 12 goals and assisted a further 10 in 27 games. On the other hand, in only 14 games, Sturridge scored 10 and assisted 3. Given how consistent Sturridge has been since joining Liverpool, it is only logical Sturridge would have ended up with a greater tally than Rooney's last season, if he played the same amount of games.
With this in mind, why is Sturridge not considered world class? After all he has met the criteria: the mazy dribble against Aston Villa and chips against West Brom and Everton show he certainly has the talent; the amount of goals scored show the consistency to go with it.
I will concede his international form is not up to scratch, but then he has hardly had a consistent run of games to find his feet in an England shirt. Additionally, when he has played, he has often played with an injury.
Conversely, Rooney's form when playing for England is shaky at best, especially considering Euro 2004 was the last time Rooney scored or even played well at an international tournament.
I am sure Sturridge's time will come for England, but for now his Premier League form for Liverpool is enough to see him recognised as world class.
In the Premier League there are six world class strikers: Luis Suarez, Sergio Aguero, Robin van Persie, Alvaro Negredo and Wayne Rooney make up five. If the first three are widely considered to be in a league of their own, then the last two should be the base for where world class comparison's can begin. As far as I am concerned, Daniel Sturridge has done more than enough to be considered equal to Rooney and Negredo.
* For more on Liverpool visit: http://www.scooponthecity.com/liverpool