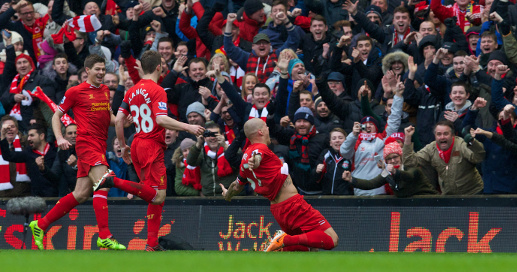 Liverpool demolished Arsene Wenger's side with 5-1 yesterday. The first time Liverpool have scored 5 against Arsenal since 1964.
Martin Skrtel scored his 3th and 4th Premier League goal for Liverpool FC this season, all 4 goals have come against London opposition. The Reds have scored inside the opening minute in a Premier League home game for the first time since December 1996.
The match couldn't start any better because Liverpool were ahead inside 60 seconds at Anfield as Skrtel nudged home a free-kick from Gerrard at close range. The Slovakian scored his second goal of the game after Gerrard's corner found the head of Skrtel who fired the ball into the left corner. I didn't believe what I saw yesterday; 4-0 against Arsenal after just 20 minutes. MOTM Sterling tapped home and Sturridge calmly scored his 15th goal of the season.
Martin Skrtel was very happy with the result:
"It was a perfect win for us. We knew before the game that it was going to be tough, and it's always special when you play big teams like Arsenal.
"We just wanted to start the game well and show we were ready for them – to be leading 4-0 after 20 minutes was perfect. We're just happy we got three points from this game.
"We are ready. We beat Everton 4-0, we beat Arsenal 5-1 – they are big wins and big points for us. Now we have to be focused for the next game we play, on Wednesday.
"We need to get three points there as well. We're going from game to game, trying to get as many points as we can. We'll see where we finish at the end of the season. We know what we're playing for; we're fighting for our life to get into the top four."
Written by @LFC_newsblogger