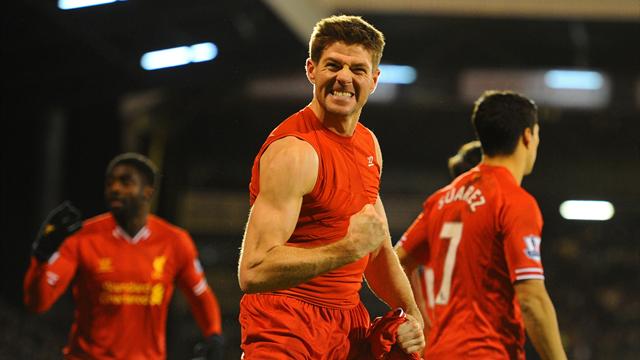 Gerrard 91st Minute Penalty Snatches All Three Points For Reds After
               Two Terrible Defensive Mistakes Nearly Cost Us Again…
Liverpool managed to beat Fulham 3-2 on Wednesday 12th February with a real Captains performance for Steven Gerrard. Not only did score a last minute penalty, he also made a fantastic assist and had an all round, real solid, leaders performance. You could see after he scored his penalty he was yelling at the team, telling them all to defend and everyone to get behind the ball. He always seems to step up in these important, big games. He really lead the players yesterday. He told liverpoolfc.com: "It's a great win for the lads. I got the final penalty, which is an important spot-kick, but it was about the character and determination we showed today. I don't think we defended well enough but we showed plenty of guts and we never gave up. If you do that, more often than not you get the breaks – and we got one in the end. It was a great win for us."
 Both of Fulham's goals could of been easily avoided though, first, a real howler of an Own Goal from Kolo Toure in the eighth minute to put Fulham 1-0 up, then Skrtel and Flanagan colliding which led to the ball falling to Richardson who had the easy task of tapping in from 6 yards. Good news for the defence though as Agger is now back and played the last few minutes of the game. Johnson, Sakho and Enrique to all be back by the end of the month to strengthen defence.
Youngster Joao Carlos Texiera came on for Sterling in the 80th minute to make his first appearance for the reds, he looked quite sharp as he had a shot that just went over. Bold move by BR to bring him on, no experience, in the 80th minute needing a goal to win! I've watched him in the U'21s before and he was great in the academy so i've got confidence he will be a future LFC player!
I have to mention Suarez, Luis was the only player that acctually seemed switched on in the first 2o minutes or so. He was chasing everything down and he was the only player that looked dangerous for us. When Coutinho scored our second goal, whilst everyone was celebrating, he grabbed the ball out of the net and ran it back to the center circle straight away, he was hungry for the win.
We showed grit and determination to come back twice and eventually win the game. A few years ago and we would of lost that game! All the players believed that we could win, and when the players belief, it makes it very much possible. The support from the fans was amazing! It sounded like a home game! I couldn't hear anything from  Fulham, that could be because the Liverpool fans had one whole stand to them self, but even still, it was great support!
Next game Vs Arsneal away in the FA Cup. Would be happy with a draw and bring the tie back to Anfield for a replay! But if we can win, then lets beat them there and then! Our away record is terrible, that's why I would be happy with a draw!