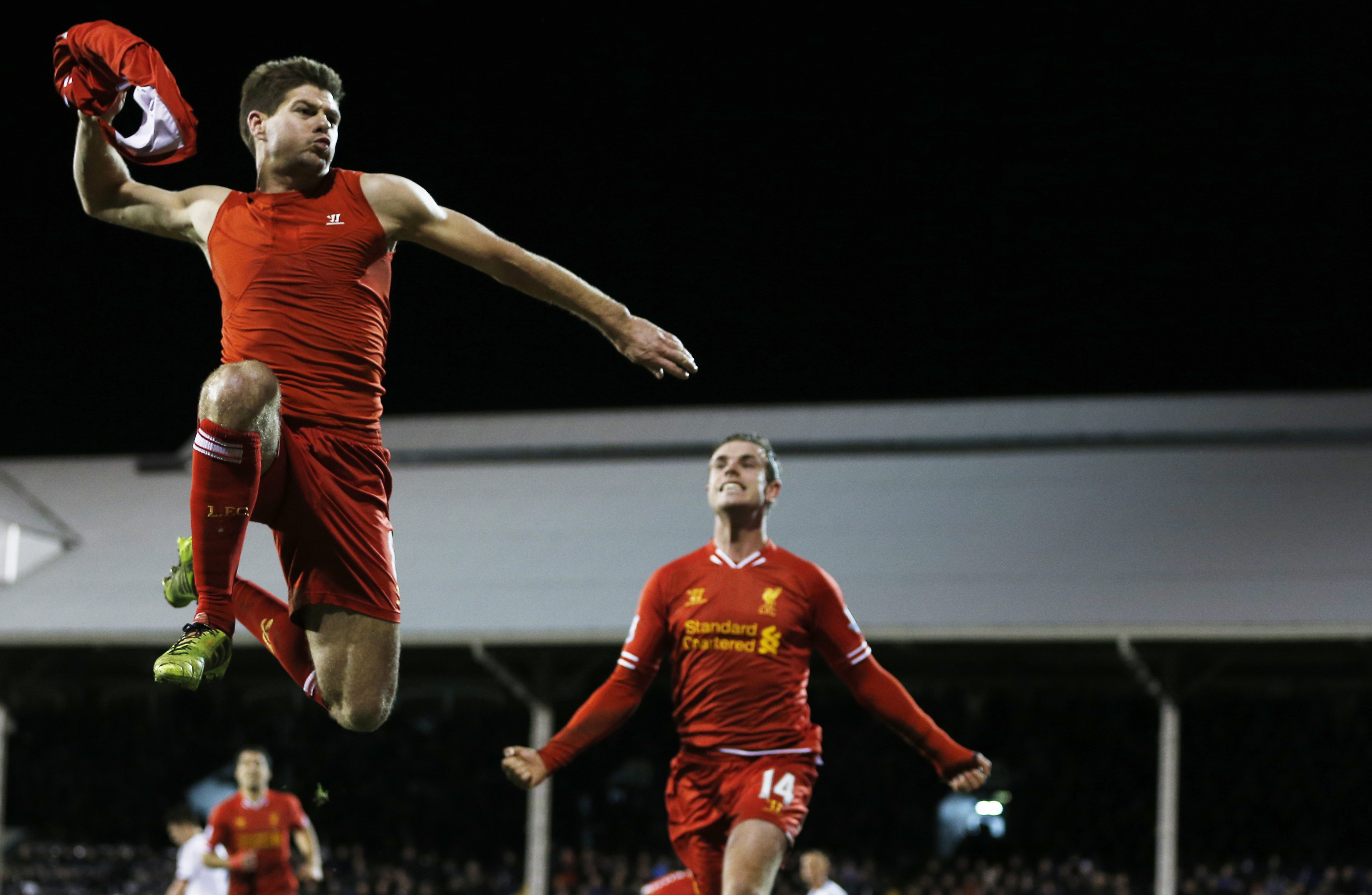 Liverpool almost lost against Fulham but Steven Gerrard's dramatic stoppage-time winner made sure that The Reds kept up their pursuit of the Premier League top four
The Cottagers started very well especially Lewis Holtby, loaned out by Tottenham Hotspurs, caused a lot of danger in the opening minutes. Fulham set up an attack on the left side of the field. Richardson found space inside the box and sent a low cross into the six-yard, which Toure accidentally deflected in his own goal. Toure's own goal was second quickest goal scored by a Fulham opponent in Premier League – after Liverpool's Martin Skrtel who made an own goal after 5 minutes in May 2012.
Liverpool created their first chance after 13 minutes. Luis Suarez collected the ball from Cissokho on the left edge of the box. El Pistolero gained himself some space for an accurate shot, that Maarten Stekelenburg needed to beat away at his near post.
Liverpool were still thinking about the 5-1 victory over Arsenal last week because The Reds started the game really poor. Coutinho's shot went high over the bar, passes weren't accurate enough and Fulham were able to create too many chances around our box. Flanagan was struggling and that caused us some problems. Richardson was again able to produce a good cross that found Bent's head, whose header went wide.
Nevertheless Liverpool scored the equaliser a few minutes before the half-time whistle. Gerrard's perfect first-time pass with the outside of his foot reached our 'dancing boy' who calmly scored. Sturridge's shot hit the inside of the post but luckily the shot had enough power and curve to cross over the line. That was Gerrard's 9th assist of the season and moved level with Wayne Rooney who also made 9 assist so far. Stieve G played a good first-half.  The Skipper made 42 passes, 2 clearances and 1 interception.
The first-half came to an end, and in spite of the own-goal, a few mistakes and two or three spoiled chances I thought it went ok. The performance wasn't good especially when you keep in mind that we demolished Arsenal but a 1-1 at half-time isn't that bad. Liverpool just needs to finish it in the second-half as soon as possible.
Luckily Liverpool started to play better the second-half. Suarez took down Sturridge's cross on his chest, unfortunately his left-foot volley went wide on the far post.  Then minutes later Suarez tried his luck again and fired a precise effort from 20 yards which bounced away off the post, so unlucky! Liverpool have now hit the woodwork 20 times this season, six more than any other Premier League side.
I don't know what Brendan Rodgers said during the break but it worked. The Reds were pressing and the second goal hung in the air.
Despite the good start Fulham scored the 2-1 as Richardson, who played a good match, put the hosts back in front. He blasted home from close range. Again the defensive, especially Skrtel, looked weak and should have done better, much better. Liverpool have now conceded 2+ goals in eight of their last 10 Premier League away games. Too many if you ask me..
Finally Liverpool managed to score. Coutinho, who said that he has been working on his shot accuracy, scored the important equaliser. The Magician dribbled into space and curved the ball into the bottom corner; the ball got a little deflection with certainly helped. Daniel Sturridge was again important with an assist. His fourth of the season.
Fulham were forced to make a change of goalkeeper as the Dutch goalkeeper Stekelenburg took a knock to the head. David Stockdale replaced him. Also Teixeira came on to make his debut – The 9th player this season, and the 22nd under Rodgers.
It looked like the game was going to end in a draw. Liverpool tried to score their third goal but Fulham defensed with all their players on their own half. Nevertheless it was Sturridge who gained himself a penalty as he was brought down in the box by Riether. I couldn't handle it and I was thinking; how can he [Gerrard] handles that kind of nerves? Well I don't know the answer but I do know that Gerrard scored! He blasted the ball into the top corner.
'Captain Fantastic' was again our savior, a bit like Yossi in 2009. Liverpool remain in fourth place, but are now just one point behind third-place Manchester City, who have played a game less. Four points is all that separates the Reds from first-place occupants, Chelsea.
Brendan Rodgers was of course happy with the important three points, he said: "It was a very important win for us tonight. After the game at the weekend, in which we were outstanding, we had to show different qualities tonight – one of which was character."
Written by @LFC_newsblogger