I received the following from Dom Williams, one of the organisers of the Hillsborough to Anfield Run.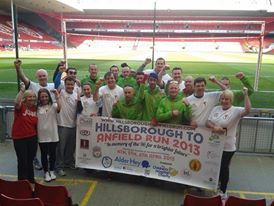 2014 is going to be a massive year in the fight for justice and we hope our run will help highlight how important the upcoming inquests will be to the Families of the 96, the survivors and all Liverpool supporters. It should never have been allowed to carry on for 25yrs but sadly it has and it will be more important than ever to show our support to the Families of the 96 and survivors of the tragedy. Our run is always done in memory of the 96 and whatever we raise, Alder Hey Children's Hospital Liverpool and The Children's Hospital Charity Sheffield are to be the beneficiaries again this year, is given in the name of the 96. A positive legacy if you like.
As this is the 25th anniversary of the Hillsborough tragedy we decided it would be poignant to arrive on the pitch at Hillsborough exactly 25yrs on from that dreadful day so our timetable will see us leave from the Memorial at Anfield early on the morning of April 13th and arrive at Hillsborough at some point on the afternoon of April 15th. We will be covering 96 miles which will break down to three 30+ miles running for each of the three days, a real test of endurance and fitness.
It is very important to us all on the team of the Hillsborough-Anfield run that we do the 96 and their Families proud so we hope this year's run can be the huge success the previous two runs have been.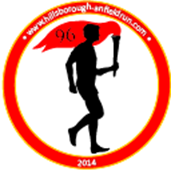 Find us on Facebook https://www.facebook.com/hillsboroughanfieldrun and Twitter https://twitter.com/HillsboroughAnf were you can leave messages of support or if you can please get behind our fundraising efforts for two amazing Children's Hospitals, In memory of the 96 http://hillsborough-anfieldrun.com/donate/
#JFT96 #YNWA