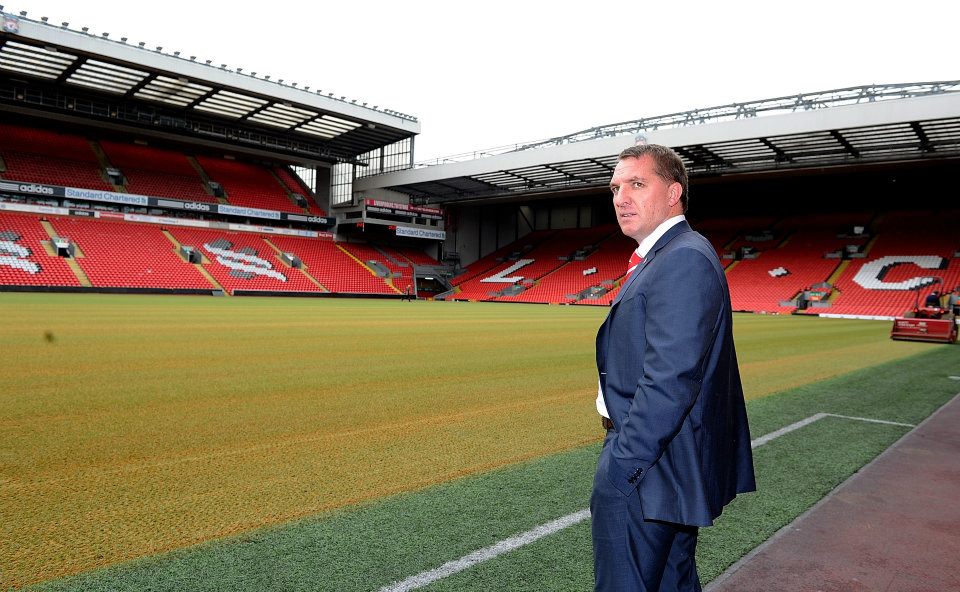 On 1 June 2012, Rodgers accepted an offer to become the new manager of Liverpool. Since then he has changed Liverpool from a team getting worst every season, to a top four team in the English Premier League.
Early Liverpool Career
We will now go back to the start of Brendan's Liverpool career. On 2 August 2012, Rodgers oversaw his first competitive game as Liverpool manager, a 1–0 win in the Europa League against FC Gomel, and won his first home game in charge in the second leg one week later. In his first league game as manager on 18 August, Liverpool lost 3–0 against West Bromwich Albion at The Hawthorns. His first win in the league came against Norwich at Carrow Road, Liverpool winning 5–2. On 31 October, Rodgers welcomed his former club Swansea to Anfield in the fourth round of the League Cup, a match Liverpool lost 3–1. On 6 December, Liverpool defeated Udinese 1–0 away in the Europa League to qualify for the last thirty-two as group winners. On 27 January 2013, Liverpool were knocked out of the FA Cup in the fourth round, surprisingly losing 3–2 to League One team Oldham Athletic. Liverpool finished in seventh position in the Premier League in his first season in charge, one position higher than the previous season. Although Liverpool finished higher we did not suceed in our top five hopes. Therefore showing a poor season, the good side was that we saw glimpses of hope throughout games, and could see changes. Therefore Liverpool fans gave Rodgers more time, and that has proven to be the best choice LFC made.
Present Performance
At the start of the 2013–14 season, Rodgers was named the Premier League Manager of the Month for August 2013, after Liverpool had many excellent performances in the league. Liverpool started to look like a completely different team, winning game after game and dominating matches. The February signings he made (Sturridge,Coutinho) have proven to be very impressive and prolific. Therefore gaining first team football and helping Liverpool get to where they are now. Daniel Sturridge who he signed, scored the winner for all three of the opening games in the Premier League, this lead to more signings in the summer who are due to succeed. When Rodgers joined he brought in a new philosophy, which was Passing, Possession and Attacking football. This didn't work to well in the previous season, but now has started to shine and has been a huge part of the new Liverpool we see today. He also went to a 4-3-3 formation like he did at Swansea and that has worked very well for us, letting 'Bench Warmers' get more playing time. This is how Liverpool used to play in the 'Old Days' and we see this coming back game after game, he even put the old Anfield sign by the entrance to the pitch. Rodgers seems to like buying young players, so in the future we shall have one of the most dominate teams in England. We see this working when he uses youngsters like John Flanagan who plays alot of first team football lately, as he got a taste of it and therefore got  more determination to succeed, and now is a very promising LB/RB. Since Rodgers has arrived he has had the full backing of the owners and has kept a strong relationship with them. This has lead to us being able to have more money to make great signings such as Sakho in the summer. Rodgers has helped and gave patience to many young players, to help get the most out of them. This has built better character and a greater bond across the team.
The Last thing I want to talk about is how he handled Suarez in the summer. What impressed me is that Rodgers could hold his nerve even when pressured by the media. He handled the situation perfectly and has kept one of the best strikers in the world at our club, Rodgers was determined to keep Suarez and that is what he has done. Rodgers now has plans to build the team around Suarez, and hopes to have a very strong squad in the future.
Liverpool now aim for Champions League towards the end of the season.
Rodgers Quote :-
"The great name of Liverpool as a club and the history of the club dictate that we should be in that competition. There's no other measure for us." – Talking about Champions League
Tom Owen