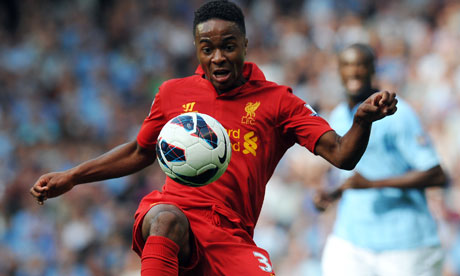 Raheem Sterling is on the up, here's why. Let's go back to 2010 when he signed for Liverpool for just £600,000 from Queens Park Rangers, Following up on signing for Liverpool he made his first appearance in the first team against Borussia Monchengladbach on August 1st 2010. He continued to play in the youth team in which he scored his first goal in a 2-2 draw against Hibernian; He followed this match with his first Premier League Academy match against Aston Villa in which Liverpool drew 2-2. On the 15th of December Sterling scored in the FA Youth Cup in a dominant display as the Red beat Notts County 4-0. Probably one of Sterlings best days as a youngster came when Liverpool met Southend United in an Academy game, where he scored 5 goals in an 8-0 win; from there he was on the first team's radar. Sterling made his debut for Liverpool as a substitute against Wigan Athletic on the 24th March 2012 at a tender age of 17 years 107 days; He became the second youngest player to play for the club. Sterling scored his first goal for the Reds in a pre-season friendly against Bayer Leverkusen.
In 2011-12 Raheem Sterling managed a small proportion of appearances making only three in the whole season, from this we wasn't able to gather any information of how this player would improve. Sterling was able to do brilliantly in Liverpool's reserves and for that he earned many more appearances in 2012-13. During the 2012-13 season Raheem Sterling was able to play 24 matches with 19 starts for the club, During this time he was only subbed off four times. Sterling made an incredible 718 passes during his performances for the club with an accuracy of 84.50%, 77.70% in the oppositions half. He went on to win 43.6% of his duels and 16.7% of his aerial duels. During the 2012-13 season he managed to score 2 goals and get 2 assists, but he was also able to create 37 chances.
On to this season, Raheem Sterling as we know has be absolutely incredible this season, Just take a look at his recent appearance in the 5-1 demolishing of Arsenal at Anfield. Sterling managed two goals out of his five attempts at goal, He also managed 15 out of the 23 passes he attempted (63%). For me a lot of his performances this season are down to the treatment from Rodgers.  2013 was a tough year for Sterling but not on the pitch, Sterling was accused of Assault by model Shana Halliday and after showing evidence Sterling was cleared in September 2013. Sterling's young attitude came out at times and Brendan Rodgers managed to keep Sterling's head out of the clouds and for me this is why Sterling has improved on the pitch. After Sterling's amazing performance against Arsenal at Anfield Rodgers came out to say "Raheem Sterling was incredible," "He's just turned 19 years old and I don't think there is a better winger in England, at this moment in time. He's absolutely phenomenal.
Can it continue?
Raheem Sterling's form has been amazing for the reds but will it continue? , For me it can continue, his attitude and commitment to Liverpool Football Club is incredible and he deserves all the praise he's getting, Can he improve? Certainly he can, everybody can improve that's the way football works. Raheem Sterling deserves a call up to Brazil for me after the string of performances he's put in, I cannot see a better player out wide for England. Raheem Sterling will continue to evolve and I can't wait to see what's next for the young lad, Onwards and Upwards.
YNWA.
Written by Alex Sales (@MegaGamingElite)