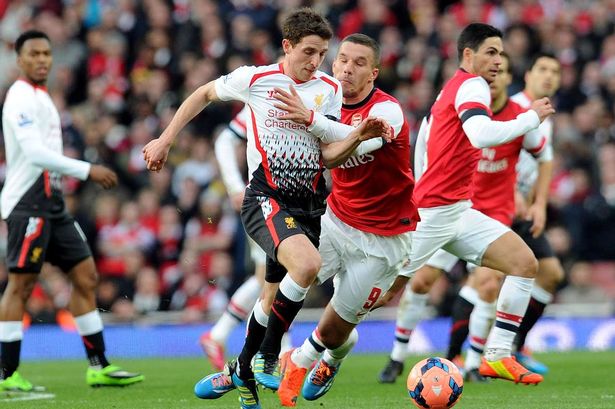 Joe Allen says Liverpool will use the loss against arsenal to propel our season and has labelled it as a driving force.  I believe Joe Allen is right in that we can use the loss as a positive, if you watched our FA Cup game against Arsenal you would have noticed we played very well especially the second half. I also believe we wasted chances in the first few minutes of the game, Daniel Sturridge who is normally so prolific just couldn't convert the early chances, despite this we managed to propel after falling 2-0 down. After we went 2-0 down that's when everything changed in the game, we pushed on as we always do, we managed to pull one back after Luis Suarez was fouled in the box and Steven Gerrard was able to convert the penalty. We kept on pushing after the penalty and managed to play Luis Suarez into box only for the Ox to bring him down, Even with the best view possible Howard Webb said no penalty and I'm still angry about this, we know it was a blatant penalty.
Joe Allen wants the squad to use their frustrations from the FA Cup to beat Swansea City who the Reds face this weekend, despite all the negativity around the loss I honestly believe that we have an advantage going towards the chase for fourth. All the teams surrounding us will still be competing in cups matches whilst we have time to concentrate fully on the league. Joes Mourinho stated that Liverpool have the advantage going into the final stages of the season and If I'm honest we do, We have no other competitions to play so this allows more rest for the players and also allows them to be fully prepared for the Premier League matches remaining. This is why Joe Allen said we should use the loss as a positive as well, yes we should have had a replay but it wasn't to be. We now have to think positively about our chances in not only the race for fourth but the title race itself. Joe Allen stated "That's the positive we take from the tie – the performance,"
"We were bitterly disappointed to be knocked out of the cup and I'm sure the fans travelled home very disappointed.
"But our performance level against a good Arsenal team holds us in good stead for the challenges ahead.
I see from these statements he made the positivity within them, yes we are out the Cup but we can go into the league with an advantage.
Liverpool will face Swansea City this weekend and will be looking for all three points, can we bounce back, Yes is the answer.
YNWA
Written By Alex Sales (@MegaGamingElite)
YouTube : MegaGamingElite