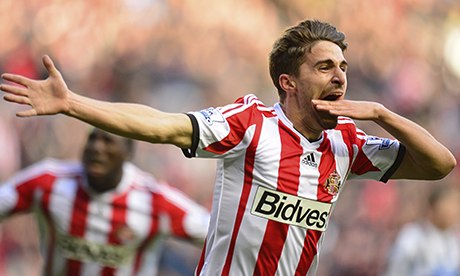 Time to take a look at one of our players who has been very impressive this season, Fabio Borini was Brendan Rodgers first signing at Liverpool after he worked with him at Chelsea. Since Borini's arrival in 2012 he has failed to impress at Anfield and for £10.5m you would have expected a bit more form from the young italian, Despite his poor start at the club he finally scored his first goal for the club in the Europa League match against FC Gomel. In Borini's first season at Anfield he appeared 20 times with 2 goals to his name, not that impressive for a striker.
It was announced in September 2013 that Fabio Borini would leave to play at Sunderland for the whole of this season and so far he has impressed in the North-East. He made his Sunderland debut in a match against Arsenal in which they lost 3-1, He got his first start against West Bromich Albion in which Sunderland lost 3-0. It took until 27th October for Borini to net his first goal at Sunderland and it was a huge goal against fierce rivals Newcastle United. Fabio Borini was very impressive in Sunderlands Capital One Cup quarter final against Chelsea, in which he got on the score sheet himself and then set up the goal to take the black cats to the semi finals. So far this season Fabio has scored 5 goals in 26 appearances although in my opinion his performances have spoke louder than the goals he's scored. So I guess I'll get on to my question "Should we welcome him back" , Yes I honestly think Borini stands a chance of coming back to Liverpool and making a career out of it, Remember he is only 22 years old and still has an awful lot to learn about the English game but also football in general. Would you welcome him back is what I'm asking, I honestly believe that people should give Fabio the chance because he's young and on his day can play fantastic football, We've seen that at Sunderland with 60% of his shots on target and a passing accuracy of 76%, and don't forget he's playing in a side that has under performed this season.
Will Fabio Borini be welcomed back at LFC by you?
YNWA
Written by Alex Sales   @MegaGamingElite
YouTube: MegaGamingElite