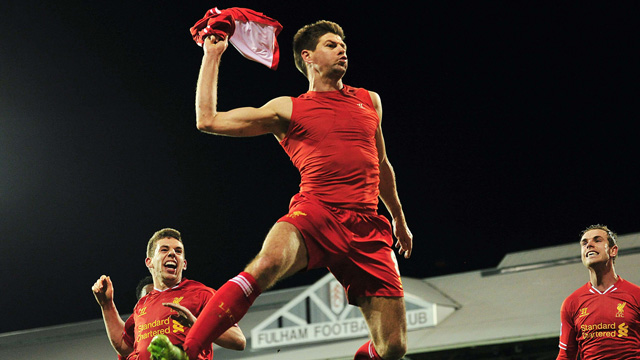 Steven Gerrard has made a career out of lung-busting runs forward, all-action displays and a boundless energy that countless opposition sides have failed to shackle. However, with the veteran midfielder's physical attributes perhaps not what they once were given that he is a couple of months off turning 34, a new role at Anfield has been engineered. Gerrard is still is the lifeblood of the Liverpool midfield, but has been asked by Brendan Rodgers to play as more of a deeper holding midfielder. The virtues of the Reds captain's new function in the side seem to be very apparent, with the Liverpool team more rounded as a result. Despite not having the seemingly endless energy levels that characterised him in his youth, Gerrard still maintains his strength, explosive nature over short distances and commitment in the tackle. This assertive presence in front of the Liverpool back four has been reassuring, while his commanding style and authority are made the most of in a deeper position.
One thing that has not waned as Gerrard has aged is his range of passing and ability on the ball. This means that when Liverpool wins the ball back in their own half, the 33-year-old is in the perfect position to start counter-attacks with his top-drawer distribution. Another key benefit of having Gerrard in a holding role is the licence for Jordan Henderson to be the man to get forward from the center of the park. The former Sunderland midfielder has overcome early scrutiny on Merseyside to become an integral player for Liverpool, with his dynamic recent showings not dissimilar to those of his central midfield partner five years ago. Henderson has grown in confidence and there is a real argument to suggest that he will be the man to replace Gerrard in the Liverpool team in the long run. Having the stalwart alongside him has obviously played its part in Henderson's progression, and together they pose as an ideal boiler room pairing.
With Gerrard's new role at club level, it bodes well for England this summer. If the Liverpool man is to fulfill a similar position for Roy Hodgson's charges, it will allow for a more offensive-minded central midfield partner – Jack Wilshere, Ross Barkley or maybe even Henderson if he continues his recent form.
Gerrard's more conservative role at Anfield will play its part in prolonging his career, which will be something that he will be mightily keen to do as Liverpool look as close to posing a title challenge now as they have done in the recent memory.
My Only Problem
After watching Liverpool vs Swansea I can honestly say Steven Gerrard was the worst LFC midfielder on the pitch. Gerrard played shockingly awful in the first half, this was the cause of their first two goals. The first goal being from former Liverpool player Shelvey. Gerrard left Shelvey with loads of space and in perfect range of the goal. Gerrard had no attempt to pick up his man, and that was a free goal which Shelvey scored in great fashion. The second coming in from a freekick in the 27′ Minute which Bony scored. Now this was not completely Gerrard's fault, but he did have a job. That was to pick up his man and mark him. Gerrard was marking thin air, he was not marking anyone and left Bony to score. Gerrard for me today was truly awful, he did play better in the second half, but the first half for me was awful to watch. He constantly gave players space (as did many players) and did not seem as the usual Gerrard we see from game to game. I am sure this is just an off game for him, but if this does not improve things need to be changed.
Do you like Gerrard playing CDM?
Tom Owen