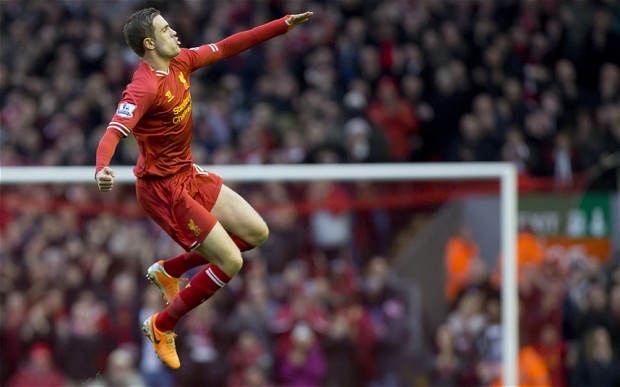 I'll be reviewing the Premier League weekend and will be looking at the teams in and around Liverpool FC.
Let's start with the early kick off on Saturday as Chelsea faced Everton, All of us Liverpool fans could do with Everton losing. Chelsea and Everton had a very open game and it looked as if it was heading to a 0-0 draw until Chelsea had a very last minute free kick in which John Terry scored the winner, so title leaders Chelsea had 3 points but in the battle for fourth Everton drop a big point. Let's go to the Emirates where Arsenal face off against strugglers Sunderland, Arsenal took an control early when Giroud scored in the first 5 minutes, they ran over Sunderland and won 4-1 meaning yet another title chasing team won. Liverpool's title credentials where tested further when Manchester City and Manchester United both won their games, meaning Liverpool desperately needed three points in my eyes.
So at a very noisy Anfield the teams where set, and what a start it was Daniel Sturridge scoring for his 8th game running after a lovely pass by young genius Raheem Sterling, Liverpool continued to pile the pressure on Swansea City and finally scored again after Sturridge's pass to Henderson was superbly finished by the young Englishmen and I must say Henderson can hit some beauty's. Liverpool's day was very easy until a huge gap allowed Jonjo Shelvey to score an absolute beauty and I'll give credit to him for not celebrating and he was apologizing by the looks of it, The Anfield crowd applauded Shelvey. Liverpool's day got harder when Skrtle tackled his man well and got the ball but for some reason the referee gave the free kick to Swansea and you could have guessed they scored from the delivery when Bony knocked it in so it was 2-2. Sturridge and Henderson both went on to score again for Liverpool in a very entertaining 4-3 victory and the day was made even better when Norwich City beat Tottenham 1-0 leaving the Reds 6 points clear in 4th.
Perfect weekend?
YNWA
Written by Alex Sales @MegaGamingElite
Liverpool 4-3 Swansea City Video review : http://www.youtube.com/watch?v=ZkNoA2YktSs