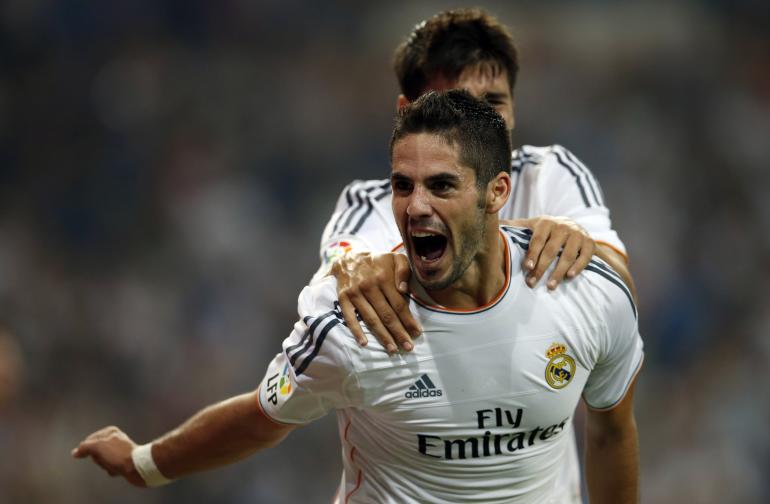 Liverpool are rumored to be lining up a bid for Francisco Román Alarcón Suárez commonly known as Isco in a bid to get a long term replacement for Steven Gerrard, but all of us Liverpool fans know Gerrard cannot simply be replaced but only replicated.
Isco joined Real Madrid in the summer of 2013 on the 27th June for a sum of £23 million pounds since then he has appeared 15 times in the Liga BBVA and has scored 7 goals which is a pretty good record. Isco has become unsettled at the Liga BBVA giants after a good string of performances from Luka Modric has seen him being pushed out of the first team. Isco came on as a substitute in Real's 3-0 victory against Elche at the weekend and answered his critics with a superb goal during that game. Isco is only very young at the age of 21 and has so much time to develop, I believe he would suit Liverpool's game perfectly although the price tag could be a club record fee of around £37 million pounds, is he worth it? , I believe he is, when he's played for Real Madrid this season he has be class and still at a tender age he can only get better and if he did come to Liverpool then I'm sure Steven Gerrard could teach him a few things. We all know it's going to be difficult to replace Gerrard when he retires but that'll be sooner rather than later and Isco certainly fits the billing, with Liverpool closing in on Champions League football, that could be a huge factor for players like Isco, Liverpool will attract world class talent and therefore be able to grow as a dominant force again.
Would you like Isco?
Written by Alex Sales @MegaGamingElite
YouTube videos: MegaGamingElite