Liverpool face Southampton this Saturday and it'll see Liverpool half way through their revenge missions against teams that have beaten them this season. Southampton were the first team to beat Liverpool and the only one to do so at Anfield. For me, they're the only side this season to give them a real headache, they played to all of Liverpool's weaknesses and gave us no room for mistakes, unfortunately one piece of slack marking and a decent header from Dejan Lovren, who they'll be without this weekend cost Liverpool the game and without Luis Suarez were unable to find a response.
The ghosts of Hull and Arsenal, and perhaps even Everton have already been put to bed in the league this season. 11 goals and only one against shows that Brendan Rodgers is making sure they if you fool Liverpool once shame on Rodgers, but attempt to fool Liverpool twice and it's shame on you. Tactically Brendan has got it spot on in the return fixtures, in fact he's only dropped points against Aston Villa and West Brom this season, one of which we did well to get any points from at all. Liverpool once again must show that they've learnt from their mistakes, anything less at this point in the season just won't be good enough.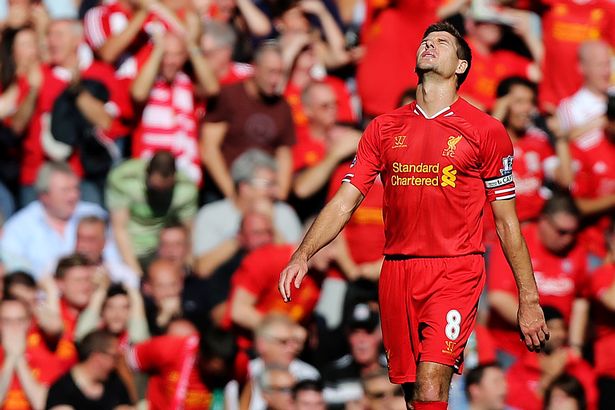 Southampton come into this game off the back of a defeat to West Ham United, 3-1 it was and Southampton by their own admission were poor. Since then though Roy Hodgson will have given belief to some regulars in their side, Lambert, Rodriguez, Lallana and left back Luke Shaw have played well enough since the last international to be recalled and in Shaw's case receive his first call up to the senior side. Though we should not forget, Roy the boy didn't only call on his new Southern quartet, Gerrard, Johnson and Sturridge will be joined by their inform team mates, Jordan Henderson and Raheem Sterling this time round and with all 9 set to start this Saturday you'd expect all of them to be fighting for a place on the Brazil bound plane.
A lot of fans seem to be worried about this weekend and less so about the home fixtures against those around them. The fear factor Southampton pose is bred from the performance that had Anfield applauding them off the pitch in some sections. After the early season form that was up their with the best in the league Southampton as you'd expect have tailed off and while look set to finish in the top half, a European place doesn't seem achievable at this stage. I think if Liverpool start as well as they have been doing and punish the Saints early on then they'll be fine, if Liverpool find themselves unable to make the break through early however, then I wonder how much resolve we'll show to keep our top four push rolling. It's time to avenge Southampton.What do you think? Result predictions welcome in the comments section!
YNWA