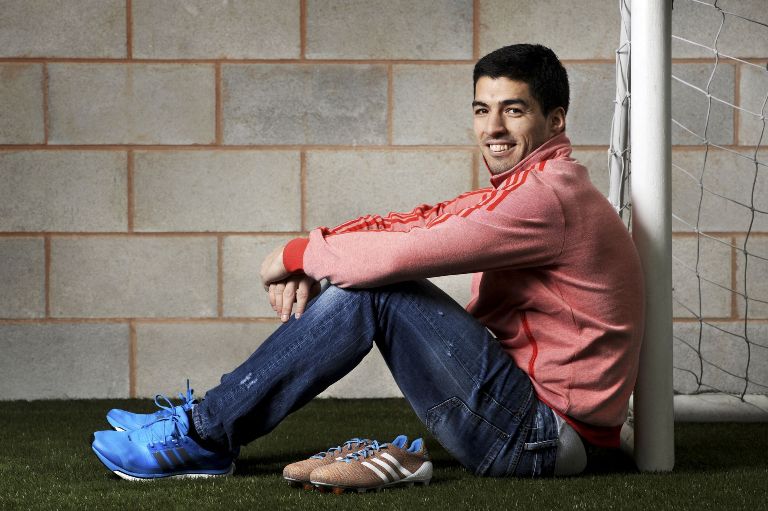 Adidas announced a new kind of football boot yesterday: Adidas Samba Primeknit. The boot will be worn by Liverpool superstar Luis Suarez and of course other Adidas footballers like Lionel Messi. The limited edition boot will go on sale on March 17th and Suarez will wear it against Manchester United.
Inspired by the success of the running shoe, the knitted boot is said to fulfil the dreams of every footballer by combining the comfort and responsiveness of playing barefoot – due to the new upper- with the protection of a traditional design.
It is the first boot to be knitted from heel to toe and Adidas also claim that the one-piece upper of the boot is made without wasting any material – meaning that the boot is the brand's most sustainable football boot.
El Pistolero hasn't scored since 28 January when he scored the 4-0 against Everton so let's hope that this boot will help him to score goals again. Despite of not scoring goals he did give 3 assists and played very well against Arsenal (5-1 victory) and Swansea (4-3 victory).
But let's go back to the boot. Markus Baumann, Senior VP for Global Football at Adidas was very pleased with their new product: "Every adidas product is developed with the player in mind and in particular, the needs of the player. By producing the world's first knitted football boot we have provided a brand new solution to the search for higher levels of comfort and flexibility."
"Primeknit is a further demonstration of our commitment to driving relentless innovation in football and is designed to allow for a bespoke fit for each player, making performance more intuitive and responsive than ever before. Primeknit is a technology that is right at the heart of adidas innovation and we're excited about introducing this development into football."
Knitting isn't just for your nan and next time you won't ask for a jumper or scarf, no you will ask for the new knitted shoes. Unfortunately the price is a bit high if you ask me: £220.
written by @LFC_newsblogger. Please follow him if you liked the article