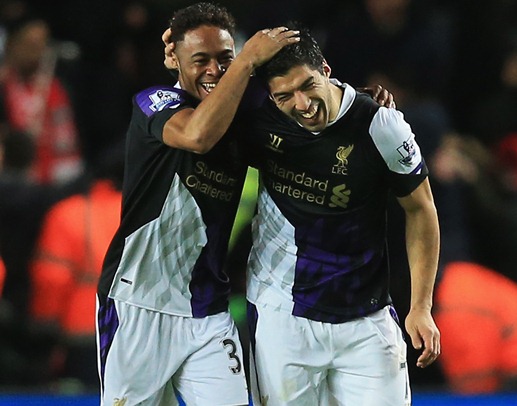 Match report: Southampton 0 Liverpool 3
Liverpool's 0-3 win means that they are now up to second in the Barclays Premier League table on goal difference, four points behind table-toppers Chelsea.
Luis Suarez ended his mini-drought as he scored after 16 minutes: his 1st goal in 6 games and that's means that he has now scored against every team in the current Premier League. The perfect way to mark his 100th Premier League appearance for the Reds.
Southampton's response came after Liverpool's first goal as the Reds started to play sloppy, players like Coutinho and Henderson often lost the ball, which caused a lot of problems for Brendan Rodgers's men. Lallana's shot hit the post, and Mignolet kept Liverpool's lead intact after Rodriquez steered a neat effort towards goal from close range.
The start of the second half saw little change in the balance of play, with the Reds pressed back and continually gifting possession to their hosts. Again Lallana – who played a good match – struck a weak shot at Mignolet, while on several occasion the visitors were fortunate a Saints player either chose the wrong final ball or failed to deliver one altogether.
As a result of that Rodgers decided to make a substitution after 57 minutes. Raheem Sterling replaced the poor playing Coutinho. Sterling made an immediate impact as he scored the 0-2, he tapped home at the far post. Suarez gave the assist, which means that El Pistolero has assisted five of Sterling's six PL goals this season. On top of that Sterling becomes the 7th youngest player to make 50 Premier League appearances and he also marked this milestone with a goal, an important one.
After scoring in 8 straight PL matches, Daniel Sturridge's run came to an end as he made way for Iago Aspas. Liverpool controlled the game after the 0-2 and tried to make a third but Suarez outside-of-the-boot effort ended wide and minutes before Gerrard's long-range drive was turned behind by Boruc.
While the additional time came to an end, Suarez earned a penalty as he was brought down in the box by Fonte. Gerrard sent the penalty high into the roof of the net: 0-3. It was the last touch of the game, a fantastic result for the Reds and I think that it is fair enough to say that we really make a chance this season to finish first. The Kop is starting to believe it, so all I can say is: 'fasten your seatbelts and enjoy the ride'.
Written by @LFC_blogger (Twitter)