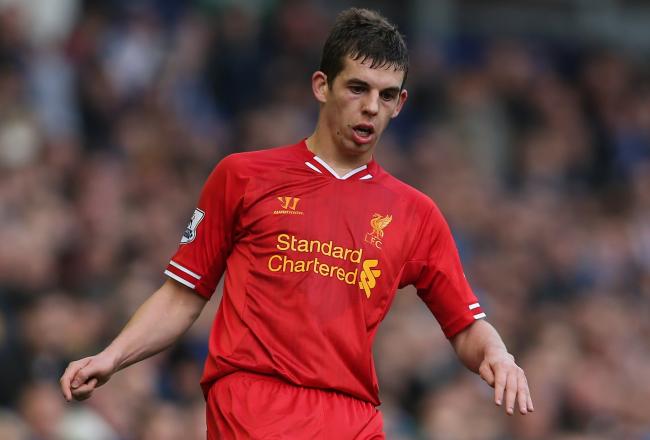 Many people already have their highlight of their season.
It could be the amazing 50-yard lob by Suarez against Norwich, or the Sturridge chip in the Merseyside derby. Even Henderson's stunning goal against Notts County is a worthy contender.
But mine is based on a man whose merit stood out most to me this season.
My favorite moment of the season is Jon Flanagan's exquisite strike in the thrashing against Tottenham in December.
The strike itself was a well-executed moment of glory. But all it did was cap a complete turnaround for a young man whose career at Liverpool could have easily paralleled Adam Morgan's – now at Championship club Yeovil Town.
Flanagan started his first-team career at Liverpool very quickly with a start against Manchester City in 2011, a debut game which promised so greatly for both him and Liverpool under Kenny Dalglish. He finished that season very impressively in place of regular right-back Glen Johnson, and earned rave reviews from critics for his performance against Arsenal where he had the mental strength to finish the game strongly, despite knocking out his mentor Jamie Carragher.
It all bode so well for him for next season, as it did for Liverpool. But it never did for neither.
Flanagan's season did not begin well, as he left Sebastian Larsson on queue back-post to score a stunning volley in the first game of the season, a 1-1 draw against Sunderland. His form took another turn for the worst when he made a horrendous back-pass straight to Yakubu for an eventual concession of a penalty in the crazy 3-2 win at Blackburn Rovers in 2012.
Many supporters thought that moment signalled the end of Flanagan's Liverpool career, showing him the door that fellow academy graduates Stephen Warnock and Jay Spearing were shown. These players were signs that the club could no longer produce another local boy that had the quality to play for Liverpool.
Eventually when Brendan Rodgers came in, the immediate thought among Liverpool fans was "Flanagan is not going to fit with his system, he will probably leave". Even Rodgers had made a strong statement to Flanagan and the rest of the unpromising youngsters at the club when he first arrived: "Learn from Gerrard or play in League One". But they missed out on what made this lad different from the sub-standard bunch at Liverpool.
During the breakthrough series Being:Liverpool, I saw a side of Flanagan that would eventually come back to the rest of the Liverpool fans this season: his enviable work ethic. He was seen with one of the coaches doing extra sessions after training during one of the episodes, improving his stamina and skills to no end. Flanagan did not want to be anything other than a Liverpool player, and his desire spoke volumes of how hard he was going to work to achieve that goal.
The season that followed was a frustrating one for him, only two appearances in Europe and the FA Cup collectively; but he just kept working hard for his chance.
His chance came this season, almost as surprisingly and quickly as his debut did, away against the leaders of the moment Arsenal. That game ended in a 2-0 loss for the Reds, but for Flanagan it was a performance of a man that was ready to give his all. His passing and runs from the right gave Liverpool a bit of momentum on the counter attack, and his solidity against Arsenal's fluidity was slightly impressive.
If the Arsenal performance was a sign of his persistence, then his Merseyside derby performance was a sign of his quality
The local Liverpool lad that he was, Flanagan showed the fire in the belly and aggressiveness that many thought would have disappeared when Rodgers and Martinez – advocates of the pretty tiki-taka system – arrived in Merseyside. He handled the supposed 'heir' of Lionel Messi at Barcelona [Gerard Deulofeu] with consummate ease; not bad for a natural right back playing on the opposite side.
At the end of the game, the whole Liverpool team applauded Flanagan for his brilliant display in an especially difficult game. But the applause meant more than that; it meant a final transformation and a realization of a dream come true. Eventually his form increased, and he got the goal of his dreams for his boyhood club. Cheers, Jon.