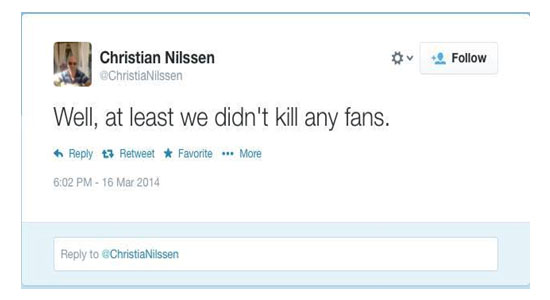 This is a tweet sent out by Manchester United fan Christian Nilssen in the aftermath of Liverpool's convincing 0 – 3 win at Old Trafford. Normally, I would shake my head and move on. Idiots are found in all camps.
In this case, it is however utterly unforgiveable. Nilssen works as a football commentator for the Norwegian Broadcasting Company (NRK), the Norwegian equivalent of BBC. He is going to Brazil later this year to cover the World Cup. He is a TV-personality, works professionally with football, and will be the
Sjur Molven, who is Nilssen's direct boss and the head of the sports department at NRK, immediately apologized for his employee's behavior in the only appropriate manner. Nilssen was called into the office, deleted the tweet and apologized. On twitter. Considering the uproar this caused amongst Norwegian football fans, it can hardly be considered enough.
Then, in a remarkable turn of events the very boss of NRK, Thor Gjermund Eriksen who is also an avid Manchester United fan, comments on the incident as "not particularly elegant, but hardly very serious". It is atrocious that someone in his position can sweep such a horrifying statement under the carpet.
It turns out this is not the only vile tweet Nilssen has posted. "Always the victims, never your fault" seems to be a personal favorite of his. "Scouse bastard" is his generic term for anyone with sympathies for Liverpool. Jokes about The S*n are aplenty.
A journalist in England would have been fired. Manchester United have pleaded their fans not to mock the Hillsborough tragedy. A whole city has boycotted the largest newspaper in England for 25 years. David Cameron has publicly apologized. But the boss of Norwegian Broadcasting doesn't think it is very serious. They still think he should be the professional conveyor of the greatest football event in the world.
Yesterday around lunch, I launched a campaign to gather signatures, saying we don't want Nilssen in the team that covers the World Cup for the publicly owned NRK. With no Scandinavian teams qualified, many Norwegians will support England. England will most likely have 5 or 6 Liverpool players in the team, players that Nilssen has disrespected deeply. The campaign has gathered enormous pace, and currently almost 4000 people have signed in less than a day. The campaign can be found here: http://www.opprop.net/vm_uten_christian_nilssen
Unfortunately, the management at NRK still fails to see the seriousness of this issue. How can anyone with love for the game relax, sit back and watch football knowing they are paying this hateful man to go see the World Cup first hand?
I write this to tell you about what is happening in Norway right now. Someone has spewed out repeated hateful messages about the Hillsborough tragedy, gets away with a halfway apology for one of them, and is awarded with a ticket to the World Cup, paid by the Norwegian people.
Please help me spread awareness about this. Sign the campaign if you want. And if you are as upset as I am, send a mail to NRK's sports department at sporten@nrk.no or @NRK_Sport (twitter) and tell them exactly what you think.
– Hans Eirik Systad Tyssen
@HansTyssen