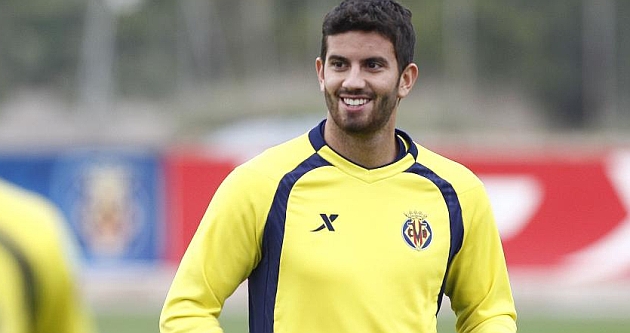 Barcelona and Manchester United are currently battling Liverpool for the signature of Villareal defender Mateo Musacchio, who is considered as a huge talent, according to a report from talkSPORT. 
The 24-year-old has played 26 top flight matches so far this season, and scored one goal this season against Barcelona. The Argentinian, who is currently in great form, has been a key figure for Villareal, as they sit seventh and will qualify for the Europa League if they are able to carry on their good form. 
Musacchio is highly rated because of his South American play-style, he has the ability to carry the ball out of defence and link up with his midfielders. In addition to that he's also very athletic and has an intuitive ability in winning back the ball, as he averages 3.5 interceptions every game. 
He will be pushing Martin Skrtel, in theory, as Musacchio lines up as a right-sides centre-back. Skrtel has scored six goals, but his defending has at times been brought into question as he has scored three own goals this season. Other centre-back Daniel Agger has suffered with niggling injuries all season and also Kolo Toure is injury prone.
However there is also a downside when you are talking about potential stars and transfers. Claims that the Musacchio would be available this summer are false, according to talkSPORT. They published a transfer article on Musacchio, which stated that his contract did not expire until 2018.
It appears that the centre-back will not be leaving Spain because Villareal have directly clarified his situation. "Musacchio has a contract until 2018," Roig said, per Francisco Acedoat Sky Sports. "If he is wanted, then for Villarreal it is fine, but only if the money is paid up front."
Roig's claim might be false after all as apparently the official website of Villareal doesn't have a single press release announcing Musacchio extending his contract until 2018. Secondly 'Transfermarkt' are claiming that Mussachio's contract expires in 2014.
All put together it sounds complicated and the Reds will face a difficult task in securing his signature, if his contract does not expire at the end of the season. Given the fact that you have to pay a hefty transfer fee, although Musacchio is on his way to the top. The point is that FSG came to the conclusion that spending a lot of money isn't always the right thing and Brendan Rodgers still has some options left.
 Make sure you follow me on twitter: @LFC_newsblogger