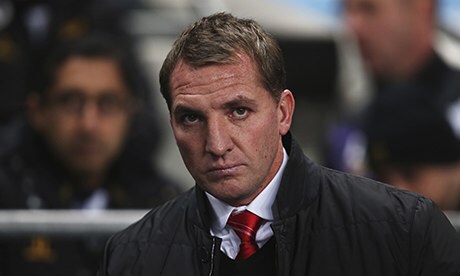 Brendan Rodgers has a challenging summer ahead. In some respects the toughest he's ever had to face as a manager. With Liverpool essentially over achieving in the season just gone, finishing a quite brilliant second, they are now thrust into the Champions League once more, the target Rodgers set himself was achieved with bells on. Now the squad requires some subtle yet very important improvements to not only cope with the amount of football ahead, but to hold off the likes of Man Utd who will definately improve under Van Gaal and a potentially new look Spurs.
The speculation is already mounting, how much does Rodgers have to spend? Who is he targeting? it's all very subjective, and depends on whatever source you care to read. So this leaves us to speculate and look at what it is Liverpool Football Club really do need this summer.
A goalkeeper for sure, with all due respect to Brad Jones who is loyal and dedicated, he is quite clearly a poor understudy to Mignolet, who given time and decent competition, will develop into a top goalkeeper. Vorm at Swansea has been heavily linked, he certainly fits the bill, but maybe Karl Darlow the excellent Nottingham Forest goalkeeper could be a better fit and a longer term solution?
Defense, oh the defence. You would hope Rodgers signs at least a couple of new defensive players. Question is who stays and who goes? Flanagan, Sakho (who will only get better with games), Skrtel, Kelly and Wisdom (both likely to get a chance in 2014/15 ) are expected to be around next year. It seems likely Agger will leave, it appears it is his time now, he doesn't seem to fit into Rodgers' plans. The same could be said for Johnson, who is potentially on the move after the World Cup as he enters the final year of what will be his last Liverpool contract. Then there is Enrique, injuries aside, he has never quite done it. Toure is sure to be released and IIori will undoubtedly go back out on loan. Jack Robinson after an unspectacular loan spell at Wolves, could also find himself surplus to requirements as well. Next season may see Flanagan start as first choice right back, with a new left back signed, Ashley Cole maybe? Not sure if he fits the model, but would be an ideal short term solution and add vital Champions League experience. Luke Shaw would be an excellent addition but his future is most likely not going to be at Anfield. Signing Cole would give Rodgers money to spend elsewhere. Most media outlets suggest Lovren will be a primary target, and I would love to see this happen, a tough defender, proven in the Premier League and defensively very solid. He would certainly help round out the back line options. Micah Richards is also another option, versatile and strong, could support squad depth at the right price and has potential to be a very good player given games.
Central midfield, certainly defensively is pretty much sorted, Gerrard and Allen are more than capable of playing the deep lying role, Henderson provides the energy in there, leaving space for a creative player. Lucas may well go this summer, he is another player who has been very loyal, but now struggles to fit in with Rodgers' high energy tactics/formation. He is useful to have around, but I can see Rodgers cashing in and using the money on a more dynamic midfielder, Konoplyanka is still on the radar, Christian Eriksen would be ideal, if Spurs could be pushed hard.
Then there is the attacking options, something thats in need of a tweak, to add flexibility and depth. Assuming (and praying) like all Liverpool fans that Luis Suarez will be around next season, Liverpool also have the prolific Sturridge, creative Coutinho and the prodigious Sterling in the attacking third. Adding players to this group will be where the bulk of any transfer funds will go. There is also the need in my opinion to be careful, depth is important, but having too much choice will pose it's own problems. If as expected Lallana joins, he fits all the criteria, young, flexible and good on the ball, add to that a returning Borini and Suso, you then only need possibly one further player, a striker who can push Sturridge and Sterling for attacking positions week on week. Wilfried Bony would fit this bill, as would Romelu Lukaku, Bony is the more likely and would cost far less with Chelsea likely to want to either keep Lukaku or use him as a makeweight due to FFP regulations. Plus Bony has shown he is capable of scoring goals in the Premier League. Aspas will return to Spain and Assaidi will certainly move to Stoke. Jordan Ibe may get a chance but will ideally go out on loan again to aid his development.
So in a nutshell, if Liverpool could add Darlow, Cole, Lovren, Richards, Eriksen, Lallana and Bony this summer, move a few on, they may just have a squad capable of not only going one better this year but competing across all competitions without damaging the league form.
Question now is will FSG back Rodgers and give him the money to do the business he needs to do?
By Chris Hutchins
Twitter – hutch2111