Liverpool Transfer Window (by @FountainofSport)
Activity so far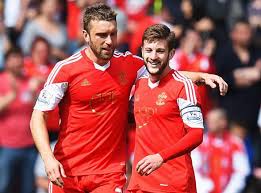 Liverpool have been busy in the window so far, signing Southampton trio Rickie Lambert, Adam Lallana and Dejan Lovren, Leverkusen's defensive midfielder Emre Can, Benfica winger Lazar Markovic and Lille's Divock Origi, who will be loaned back to his old club for the season. Javier Manquillo joined on loan from Atletico, and the signing of fellow Spanish fullback Alberto Moreno  is supposedly imminent. Liverpool have already spent a fair portion of the money gained from Suarez's £75 million move to Barcelona, on players who add a lot of depth, compared to the paper thin squad which finished second last season.
What is still needed
The fullback positions should be strengthened by Manquillo and Moreno in the coming weeks, leaving the forward position as the main one to strengthen. If Borini leaves, then Lambert and Sturridge will be the only strikers left at the club, compared to Manchester City who have four first team quality strikers. 21 year old Mauro Icardi scored 9 goals for Inter last season, and has been recently linked with a move to Anfield. Bony, Lavezzi and highy rated German prospect Volland have also been touted as potential replacements for Suarez, and even Marco Reus has been suggested as Liverpool's marquee signing this season. In addition, Dani Alves has been linked in recent days after speculation over his Barcelona future, a move which would surely see the end of Glen Johnson's Liverpool career, whose recent performances have been desperately poor.
Best case scenario
Moreno signs, Liverpool buy a forward who forms a great partnership with Sturridge, and the Reds win the title they were so close to last season.
Worst case scenario
Moreno opts to stay in Seville, Liverpool buy an untested foreign striker who struggles to adapt to the Premier League, and the Reds drop back out of the top four.
Transfer Window rating so far
7/10
Lovren will add some leadership to the defence, Moreno's potential arrival will help solve the left back problems, Emre Can's ball-winning ability will be vital, and Lallana and Markovic add even more depth and flair to the attacking positions. A striker is still needed, and questions could be asked over the prices paid for some of the new additions, but overall, the squad is much stronger in depth than last season, an area which contributed to the failure to win the title last season.