Last season (2013/14) I had written how the best formation for Liverpool will be 4-4-2 (Diamond) which Liverpool adapted toward the second half of the season which also included that superb unbeaten run which was halted by Chelsea. The new season is upon us and with it brings the new challenges, with the departure of Luis Suarez and the way Rodgers has built this new team to reflect his philosophy by strengthening the team in few areas which concerned us last season lets see which formation can be utilized this season. Also with the bench strength vastly improved over last season when Rodgers had to name some young players on bench due to an already thin squad being reduced even more by injuries to key players it provides a different sort of challenge to manager.
Last season Liverpool used about 8 different types of formations to overcome a different opponent which shows the tactical awareness and the adaptability of both manager and the squad. The system Rodgers will be implementing this season will be his preferred and loved 4-3-3 which can be easily modified to 4-2-3-1 with same players without any substitutions. Talking of substitutions Liverpool made the fewest last season a whole of 88 which was largely due to limited options and quality like to like replacements on bench, this season it will be different though. The players Rodgers has signed are clearly the ones who will suit his system and have one quality in abundance is their pace. But there are still a few signing to come till the window closes down most notable will be the Sevilla left back Moreno (deal might be completed after the Super Cup) along with a Central Striker (Marquee Signing will be a good statement of Intent), backup goalkeeper and if Lucas Lieva leaves a Central Midfielder.
The Possible Strongest Liverpool Lineup for 2014-15: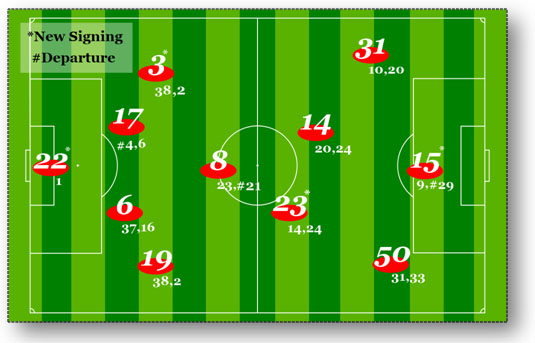 Mignolet has been steady and Jones although not spectacular has been solid when called upon during Cup games but Liverpool need a backup goalkeeper to keep Mignolet on his toes.
With the arrival of Lovren and Manquillo the Liverpool defense looks the strongest with enough cover at all position which is much better than last season when Flanagan played at left back due to injury and somewhat poor form of Cissokho. With the possibility of Moreno added to squad it will solve the long standing problem for the club at left back position with Moreno such highly rated in Spain, although he might need to adapt to EPL quickly since he won't get much game time due to late transfer and his involvement in Super Cup for Sevilla. With so many new arrivals there might be some player surplus to requirement namely Kolo Toure, Illori, Coates, Kelly and sadly Agger too, some players may be loaned out.
Emre Can has looked good in the Liverpool midfield in preseason, he has the muscle to take on the tough tackling PL, Gerrard has really grown in his deep-lying-playmaker role but with age not on his side it will be interesting how Rodgers will utilize the talisman with so many matches to play in the coming season. Henderson seems to have been given a target for goals this season which is evident from his surging runs into the box, now that Can is there to cover along with Gerrard. Lallana although injured will be a huge player for Liverpool because of his versatility of playing in many positions in midfield and even in forward position wide or behind the strikers. Coutinho has been the star men for Liverpool this preseason and it keeps baffling how was he left out of Brazil squad by Scolari. Allen the once called "Welsh Xavi" might be low in pecking order but will get to play important role with so many matches to look upon. Suso sadly will be loaned out again which will be sad as the lad has lot of potential and it would have been good to see him play some sort of role in later stages of season but hopefully he will return as a much better player.
Talking about the forwards Liverpool has the best young talent in form of Sterling, Sturridge, Markovic, Ibe and Borini (he might be leaving). Also the Liverpool boyhood fan Rickie Lambert has been a good addition to attack at cut price deal and brings with him a few goals. Sterling and Sturridge can combine to become the new SAS with Sterling adding a few more goals to his game and Sturridge remaining fit by overcoming those niggling injuries he suffers every now and then. Markovic has pace but looks equally injury prone it will be interesting to see how he adapts to PL's physical nature. Missing out on Remy was bad because of his versatility, pace and PL experience but hopefully Rodgers will get a better replacement till the close of window.
Although this lineup may change at some positions like Left Back and in one of forward position depending on whom we sign it won't be easy to name the starting lineup with a variety of options at Rodgers disposal. But looking at the players we are being linked it's clear that Rodgers isn't going to sign players who won't suit the 4-3-3 system nor is he going to panic buy in this window. Let's look at some key positions that still need strengthening.
Possible new signings:
Backup goalkeeper: with the departure of Pepe Reina to Bayern, Liverpool need a good understudy to Mignolet who can also challenge for the starting place and provide solid cover if Mignolet gets injured. Also with European commitments it will be beneficiary that backup goalkeeper can start those league matches just before the crucial midweek away ties.
Central Striker: Daniel Sturridge showed last season that he can play the central role effectively and lead the attack but is still very much injury prone as evident in pre season too, along with the rumored Departure of Borini the team looks short in Center forward position with Lambert mostly a backup option to come off the bench and provide a plan B to overcome stubborn defenses. Although Liverpool has been linked with many big names over past few weeks chances of we landing any one of those look slim, which leaves us to choose between Bony and Lavezzi who might be available at a knockdown price.
Midfielder: Two nasty injuries has seen Lucas fall down the pecking order in the Liverpool Midfield, hard to believe that the very same Lucas was the best player for us a few season ago and was one of the first names on team sheet, but times do change quickly in football and a lot of things happen. With Napoli (of course Rafa) interested in Lucas we might need to bring in a new midfielder to add to our ranks.
This year with a strong squad it will be interesting to see how Rodgers utilizes the squad and try to impose his stamp even more now that the team has the players which suit his philosophy. The stronger defense, solid midfield and versatility of the forwards with pace will be the main weapons Liverpool will look to build the 2014-15 season upon and will try to get off the blocks as quickly as possible like they did on many occasions last year but the real test will be how Rodgers men handle the pressure of expectations to go one step further and lift the title along with doing well in Champions League. But from what we have seen from last season expect Rodgers to keep modest targets of top four finish as priority and getting out of group stage in Champions League and build the momentum towards the end of season and see how well we finish.
All I can say is that, the future is bright and in safe hands in form of Brendan Rodgers. #WeGoAgain #YNWA