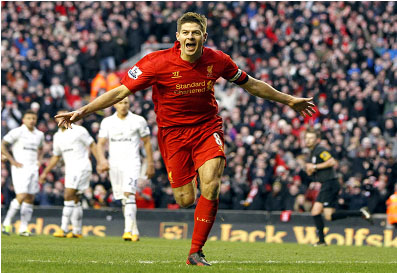 Only a handful of men are as representative of their clubs. Maldini grew up supporting Juventus. Baresi was from Brescia. Giggs' isn't Manc, Raul came through at Atletico and Cruyff left for Catalonia. All football fans have a team they adore. You, the reader should think of your team and imagine a player coming through your ranks.

He's made it to the first team and it's such a wonderful thing because he's from your city and grew up loving your club. His family history is entwined with the sorrows of the club and it's as though his talent and progress is invariably fated.

He's passionate and tackles with admiral aggression; like you would if you could. He's also elegant and strokes diagonal passes like Rembrandt caressed his paintbrush. You hope he stays at the club because deep down you know he's too good right now. And he does. And he becomes captain, and he wins the European Cup. And it portrays everything good that football has to offer.

It was a moment that bypassed petty rivalry because it was the greatest spectacle of all time. Jog on Scorsese, Kubrick, Welles – you three couldn't have written it. He did, and he scored. And he tackled, and he fought with the spirit of a fan, against a team packed with legends.
He's came a long way since his skinheaded-crunching days. He's an attacking threat now, his first transformation. What a talent. Yes, his head was turned by a club representing the three evils of football: gluttony, wealth and profit. But he stayed – they're nothing like us – he's a better type of person.

Then he plays behind a striker who is so much like him it's romantic. Two born winners. This new boy was from the gasworks of the murky river bay. He'd also represented his club – another fan in a shirt – but they had a selling mentality and he has a winning one. For a while they were Europe's best double act. The best – remember that. Together they conquered the Bernabeu, silenced the San Siro and emptied the Emirates. But the club is taken over by a couple of profit crazy yanks, western capitalists who care nothing for you the fan. Rome was destroyed in a day. The blonde boy left for 'that' club and in his place stepped with The Pistol as old western saloon doors flapped menacingly behind his entrance.

He's a player more in tune with the club this Pistol. A fighter, desire, win, win, win. The fan loves him and our player does too. But he's changed again, evolved; this is the third side of the triangle. He sits deeper and passes like a quarterback, always to the front foot, controlling the ten men around him. Bayern wants him, yet he says no. They win the European Cup too, without him.

Look at him, look at his name. You hate him? Why? He stayed at the club he loves, isn't football a sport full of mercenaries you say? He isn't, wasn't. He could have won so much more in his career had he been. He hasn't. Look at what he represents; that ancient cliché of loyalty. Wouldn't it be such a dream if he played for your club? Came through your ranks and represented your city; your country? The time has come to acknowledge how, with every passing season, he continues to breathe the freshest air into this 'premier' league. When Rome fell the only man left standing in the ash burnt rubbles was Totti. When the corporates sunk their dirty money into the English game, killing loyalty at your club, only one man rebelled, his heart as big as the city.
The last of an innocent generation;

Gerrard.