31st August 2014, LFC go back from White Hart Lane with 3 points after securing a 3-0 victory against Mauricio Pochettino's Tottenham side. On a cursory look at the score-line, most people would term it a comfortable win for the Reds, but Liverpool's defense ensures that the neutrals watching are in for an entertaining ride no matter whom they are playing, be it Manchester City or Crystal Palace. A new make-shift center-back partnership of Dejan Lovren and Mamadou Sakho was deployed in the wake of Martin Skrtel's injury. A little miscommunication and nervy moments were expected from the new defensive pairing. But the overzealousness of Lovren coupled with the lack of sharpness in Sakho's passing ability, led to several occasions during the game that could have been easily exploited by the Spurs side had they been as clinical as Manchester City last week.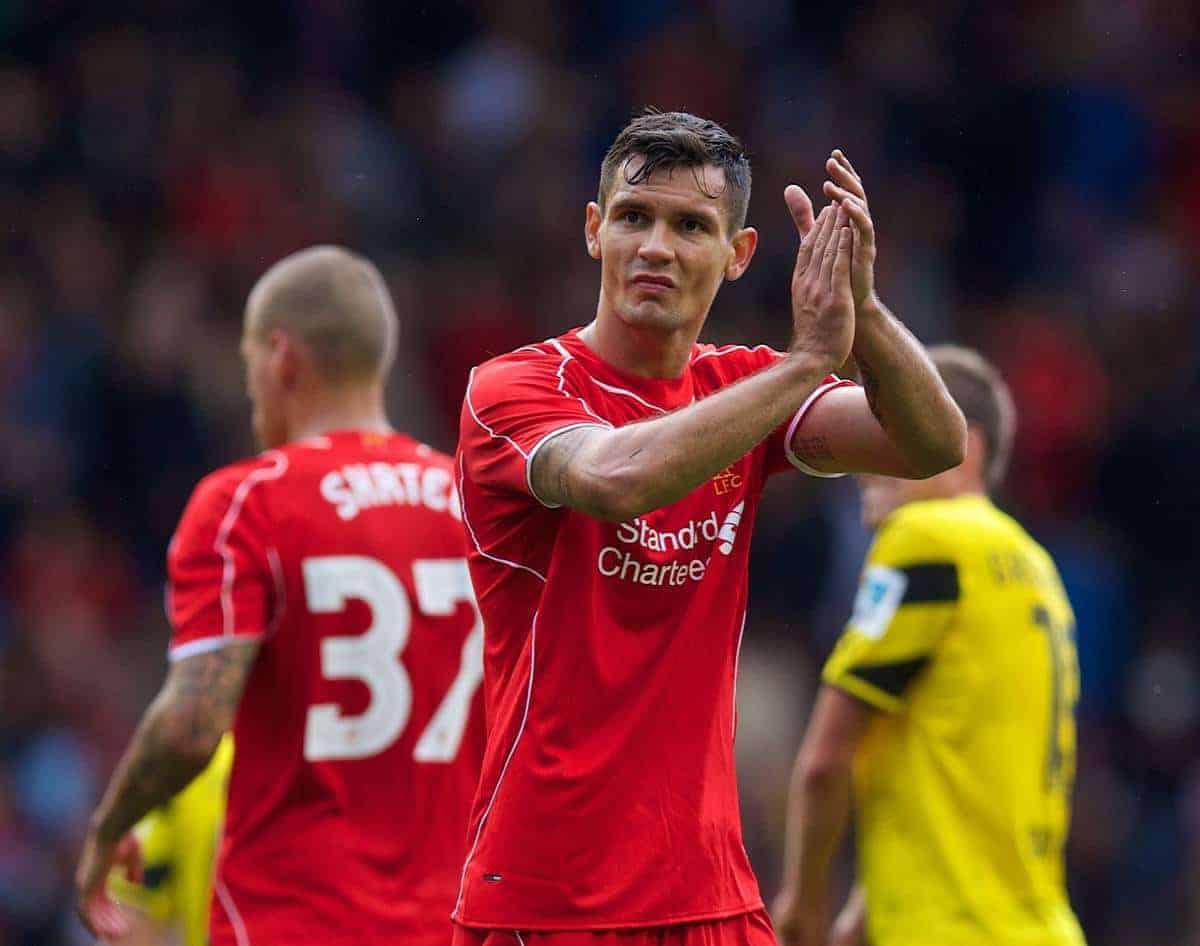 One of these opportunities arose when Lovren came buccaneering for an aerial ball just outside the box. The ball was clearly meant for Sakho to clear. With Sakho approaching the ball and Lovren coming in too, there was clear space for Chadli to breakthrough in case the ball did fall to him. That is exactly what happened. Lovren lost the header to Adebayor who headed the ball into Chadli's path. Chadli subsequently unleashed a powerful shot at Mignolet who, like he has been doing for a long while, came up with a great save to keep Spurs at bay. If that had gone in, it would've been 1-1 and the plot of the game could've easily turned.
Sakho entered the starting XI with no pre-season game time and was expected to show some rustiness. Usually really good at picking out midfield players from his own half, Sakho was terrible in his delivery this afternoon. His eagerness to play a first time pass into a teammate's path led to interceptions in the defensive half by the Spurs side and could've easily led to goalscoring opportunities had Spurs again possessed the lethal edge in attack. Lamela and Eriksen looked nowhere close to their incisive best during the game and thus Liverpool survived these lapses in concentration.
One to two defensive errors during a game can be tolerated, but Liverpool's defense continually looks shaky no matter who is thrown into the center-back positions. Is it because the players are just not good enough? Well Sakho was France captain a little while ago and Lovren a rock at the back for Croatia at the World Cup, so to call them poor players is a travesty. Then what is the reason behind them looking so vulnerable. It's miscommunication. If Lovren and Sakho call out for a ball clearly then they won't end up going after the same ball. Proper communication is what makes good defenders great. Lovren was bought to bring that quintessential leadership quality into the defensive organization of the team. However, oft times its Simon Mignolet who keeps berating the others for improper cover and pleads for greater solidity and orderliness. Lovren needs to check his overzealous nature of going after every aerial ball that is thrown at Liverpool's defense. There are two center-backs for a reason. Sakho on the other hand will only get better with his distribution which was shambolic to say the least. Playing more games should help fix that. Well, hopefully.
I'm not saying that the Liverpool defense needs to be inch-perfect in every game throughout the season. Each team is likely to have hiccups throughout the season. Heck even Chelsea shipped in 3 goals against Everton (who shipped in 6, but wait why are we even talking about Everton). But title-winners are outrageously consistent. Here's hoping Brendan Rodgers can continue tinkering his defensive pairings to provide ample assurance to Liverpool fans all over the world. Well there's Real Madrid coming over in October and Ronaldo, Bale, Rodriguez and Benzema would be sitting in their plush homes in Madrid, laughing their way into the night after watching Liverpool's defensive performances.
On a side note, it is worth commending the performances of both full-backs Javier Manquillo and Alberto Moreno. Both looked solid from the word go. They provided ample attacking verve with Moreno scoring a breath-taking solo effort for the 3rd of Liverpool's goals. He certainly has the pace and ability to go on and get more in a Liverpool shirt over the years. Carragher referred to him as 'probably the best left-back Liverpool has had since the treble winning season' and that does mean something. With Manquillo performing solidly on the right hand-side it's hard to see Johnson getting back into the first team unless Rodgers decides to add nervous excitement back into the lives of Liverpool supporters.