We go into the second international break of the season on the back of a distinctively average start to our campaign. Three wins, three losses and a draw in the league, with ten goals scored and ten goals conceded. One win and one loss in our Champions League group, and we've scraped through to the fourth round of the League Cup.
So not great by any means, but nothing is yet a disaster. We've got important players to come back from injury after this round of internationals, whose presence was sorely missed in some of our poorer performances so far. Daniel Sturridge and Joe Allen should be nearing a return by our next game, Mamadou Sakho might not be far off, and Glen Johnson should be in better shape after his run-out against West Brom. So provided our players survive this latest venture with their national teams, we should be left with a relatively healthy looking squad.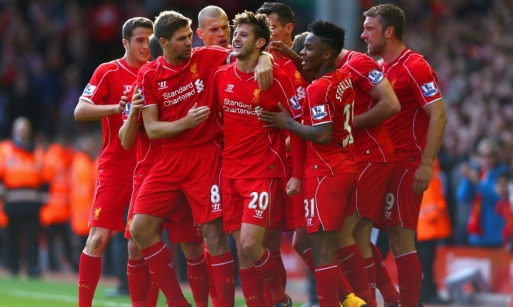 New players have had two or three months to settle in to their new environment, and have now experienced multiple examples of the sort of games they'll be facing as Liverpool players; including an away game to the reigning champions, home to a lower league side in a cup tie, and a taste of those esteemed Champions League nights at Anfield.
They now know what the club is about, they're learning how we work, and importantly they are seeing that mistakes are just as brutally punished here as anywhere else.
We also may be fortunate in that, after the internationals, we come up against QPR. Who, let's not beat around the bush, we should be beating comfortably given the start they've made back in the Premier League. But as a fan, I'm allowed to say that. What I'm looking forward to the most is seeing if the players have learned from their mistakes, and will treat this game like there's a trophy at stake. Because now's the time we need to kick on and show what we're really about. No more 'We're in transition,' no more 'Players are settling in.' We've had a disappointing start, but I'm willing to give them that if it's the kick up the backside the team needed to get things right. What we can't do is let it become a disappointing season, purely on the basis that the £100m+ we spent on players needed time to bed in.
After seven league games we find ourselves in 9th position, which ironically is the position we started the season in due to our standing in the alphabetical table. Obviously there's a big difference between being on no games played, therefore no points, to seven games played and nine points off the leaders. But at such an early stage, I don't like to look at the table too much anyway. We all know Chelsea have had a great start, and we all know QPR and Newcastle have been poor. And our form has been the epitome of a mid-table side. But a single more point and an extra goal here and there, and we'd be up in fourth. So the table is only telling us what we already know at the top and bottom, but in between it can be very misleading.
Instead of regrouping in a couple of weeks and dwelling on points already dropped, we have to make a new start and just take what's happened as a vigorous learning curve in preparation for the real deal. It's still far too early to talk about where we can or can't finish in the league, especially considering the slow start many other teams have made as well. Our Champions League group is looking fairly open, and we're still in the League Cup. Everything is still to play for. So dust yourself off LFC, and go and show us what you're really capable of.
By James Nelson (@_James_Nelson_)