by @LFC4LIFENET
Last season Brendan Rodgers had little to worry about in terms of scrutiny from the Liverpool fans and the media.  Everything looked rosy, with the club competing for the title, young players developing, senior players thriving and whatever questions were being asked of him, he generally had the right answers for most of them.

He was often called 'pragmatic' and you can see why given Liverpool were still winning games without Suarez at the beginning of the season, when Sturridge got injured and using various different formations throughout the season.
I was going to say what a difference a year makes, but actually this time last year Liverpool fans were critical of many of the performances of the side and individual players, most notably Gerrard and Sterling.  Yet the side was still picking up points despite not being at their best and these two players went on to be key individuals in the second half of the season.
I guess that highlights how form and confidence is important for the majority of players and maybe if Sterling was a new signing last season, he would be getting written off by many as Markovic seems to have been this season.  Maybe a little patience and support we could see Markovic look like the exciting talent he has shown for Benfica and his country.  Who knows!
But generally last season was a big success for Brendan Rodgers and the club.  But you can't say the same so far this season and having spent heavily due to the sale of Suarez, new signings struggling and results being poor – scrutiny is intense on Rodgers and he is under a lot of pressure.
Since Rodgers took over at Liverpool they have been vulnerable defensively.  Rodgers last season blamed individual mistakes as the main issue and spent heavily in the summer to try and solve that with the additions of Lovren and Moreno.  However the defence is not any better this season, if anything it is worse and fans are questioning whether Rodgers can actually fix it.  Last season Liverpool were scoring so many goals, it made up for the vulnerable issues at the back, as when the opposition did score two or three goals, Liverpool simply scored more – usually.
This season however the attack is looking blunt and I don't think people believe that all the players that have played in GK and defence in the last three years can all be bad players to be making the large amount of mistakes that they have.  In the three years under Rodgers Carragher, Agger, Skrtel, Sakho, Lovren, Johnson, Flanagan, Moreno, Enrique, Reina and Mignolet etc have all made too many errors.  But a lot of these players have proven over the years that they can be part of solid defences (Carragher – winning numerous trophies at LFC), Agger (got to Champs League final), Skrtel (partnered Carragher during title challenge under Benitez), Sakho (looks solid for France), Lovren (last season for Southampton) etc. etc.  So maybe, just maybe the issues are with the tactics and not the players themselves?
It is hard to argue that the tactics aren't the issues when Mignolet seems reluctant to come of his line and control his area under any high ball. Rodgers instructs the full backs to both bomb forward and offer the width in attack and we have Gerrard, who is not a defensive minded player really, as the player who is meant to protect the defense.  This will leave space and make the centre backs vulnerable.  That's without mentioning the defending at set plays, where the defence looks all over the place.   I think Rodgers might have to be pragmatic and adjust his ideal approach for the defence and make it more solid, especially with the attack not bailing them out this season.
This is the main issue that is frustrating Liverpool fans.  They all had pretty much accepted that under Rodgers defensively they might not be the most solid team in the league, given the attacking intent of the side.  However it looks very obvious that without Sturridge Liverpool lack the cutting edge in attack.  The club have clearly lost Suarez but the additions of Lambert and Balotelli, look to have been poor buys and Borini has never looked good enough for a club with the aspirations of Liverpool.  This is highlighted when all three of these strikers have failed to score for the club in the league having played over 1000 minutes between them.  That's not just lacking cutting edge, that is not cutting the 'Dejan (Lovren) Mustard'.
So putting aside the frustrations of Liverpool fans that the club seem to have bought poorly in the summer, the defence is looking a mess, tactically they seem naïve and the lack of cutting edge in attack – Rodgers has to do something in order to get results .  The club despite all their problems this season are only 4 points from the top four.  Rodgers needs to prove that he can be pragmatic again this season, like he was last season and adjust his tactics to get the best out of the squad he has now.
These are a few ways I think he can go about doing that:
1)      Drop Lovren.  I know he was the big summer buy defensively, but the truth is he has really struggled in all departments.  He constantly been out of position, he has collided with his cb partner for going for headers which weren't his to go for…  He has not won the headers when they are his to win and most importantly he is making too many errors which are costing us goals nearly every game.  Take him out of the team, give him a break and maybe when he does get a chance again he looks more like the players he did at Southampton.  If ever a player needed to work with Dr Peters – it is him!
2)      Play players in form.  I am thinking of our best defensive display this season on this issue against Real Madrid, when Kolo Toure was immense, Lucas protected the back four better than Gerrard has all season and we looked far more solid as a result.  These two deserved to keep their places in the team after that match and I'd have both starting on the weekend, as we need to pick on form over reputation and I think they will make us more solid defensively.
3)      If Sakho is fit, I think he should partner Toure.  Toure is a right sided defender, Sakho play on the left.  They should complement each other and Lovren / Skrtel have both disappointed this season.  Sakho is brilliant for France, he has all the tools to be a top class CB for LFC, he just needs regular games.
4)      Change the position of Gerrard.  It just seems bizarre to me that with a team struggling for goals we play a player of ours who has scored over 100 goals for us and numerous more assists to his name in the defensive midfield position.  He's a match winner, we need them and he can produce moments that can win us games with a cross, shot, through ball etc.  Last season it made sense to play him deeper as we had a great attack without him with Suarez, Sturridge and Sterling all thriving, those three needed quick ball and Gerrard provided it.  This season it is different, we are playing our oldest player in a position which exposes his weaknesses, defensively and his aging legs.
Surely it makes much more sense to have him higher up the field with freedom to win us games and little defensive responsibly to save his legs?    I'd like to see him either get a free role, with energy around him to do the majority of his running.  Like Newcastle did with Shearer, with Bellamy, Dyer, Robert doing this.  Or Arsenal did with Bergkamp, having legs and movement around him and allowed his passing to still hurt teams and win games.  We should be doing something similar with Gerrard.  We have the players to do it as well with Sterling, Lallana, Henderson, Can etc. to do his running for him.
The other option I think is playing Gerrard upfront with a partner.  Last season the diamond worked to great effect, allowing Suarez and Sturridge to roam and win us games, with the rest of the side just trying to stop us losing them.  Put Gerrard upfront, as he is arguably our best finisher, especially with Sturridge injured, upfront with a license to go where he wants, someone to link up with and I'm sure he will be doing better than Lambert, Balotelli and Borini have shown thus far this season.  When Rodgers put Gerrard higher up the field to link with Balotelli a few games ago, we saw Gerrard still had the quality to be a real asset in the opposition half.  Let's have Lucas or Can or Henderson or Allen doing the defensive work in midfield and allow one of our few match winners to be worrying the opposition more higher up the pitch.
5)      Stop playing One Upfront.  The side has struggled all season with one upfront.  Even when Sturridge played in the first two games against Southampton and Manchester City, very few chances were created.  Against Spurs Rodgers played two upfront and Sturridge looked much better and it was our best performance of the season as a result.  Balotelli doesn't seem to know how to play upfront on his own.  He looks isolated, is static in his movement when we have the ball and as a result our midfield have trouble creating chances for him (saying that when he has had them – he's missed!).  Lambert also doesn't suit playing upfront on his own as he is quite slow, isn't very mobile and needs a partner to link up with.  Borini can't play upfront on his own as he struggle to hold the ball up, which is vital in that position.  So why is Rodgers still playing with a lone striker?  I think it would suit all these three playing with a partner, when they do play.
6)      Consider playing Sterling upfront.  Our strikers are not scoring.  What is worse they don't look like causing the opposition any problems.  We can continue to keep playing them, hoping they will come good, when deep down we know the problem is their quality not confidence.  Or we could maybe try something else and play Sterling upfront (maybe with Gerrard) and give the opposition something else to think about.  I don't think many cb's would fancy marking Sterling given his energy, willingness to run behind a back four and his skill.  Gerrard alongside him or in a free role behind, he could thread the passes through to him or link up with Sterling.  It surely must be worth a try over seeing more of the static Balotelli or Lambert leading the line for us or the toothless Borini?  Sterling did well against Real Madrid in this role and if you give him support in a two, then he could succeed even more in this role.  It is clearly not his best position, as that is at the tip of the diamond.  But when we have Coutinho or Lallana who can also play that position, then maybe it is worth a try until Sturridge is back fit.  Would be nice to see some movement and pace upfront, that's what defenders fear, as we saw last season.
7)      Don't let the full backs both go forward at the same time.  Sure, let the full backs get forward if the ball is down their side of the field, as we need to see an overlap and bodies getting forward.  But both at the same time?  It really leaves the defence exposed and it would be more solid having the full backs pivot between going forward and staying back.  Giving the defence more protection and not leaving us so vulnerable on the counter attack.
8)      Only pass round the back with the keeper when there is time & space.  Passing round the back can work, Barcelona have proven that plenty of times over the years.  However it can also be costly, when the opposition press it aggressively.  I have no problem with passing round the back, when our players have the time and space to do it.  I can reluctantly understand doing it when you have a keeper who is very comfortable with his feet and a back four who are the same, doing it under pressure.  But we don't have that and I don't see the point in passing it round the back until we get in trouble and then hoofing it up the pitch.  We might as well hit it long in the first place.  I think Rodgers needs to tell the back four and keeper to only do it when the time is right and not every time.
These are a few ways I think we can improve.  You might not agree with all of them or most of them, but surely something has to change as what we have been doing isn't working.  All the above suggestions however would have to result in Rodgers being bold and pragmatic.  It is what he did last season, I think he's going to have to look outside of the box this season if he wants to keep the fans and media off his back by getting the side winning more games.  At least until he can buy in January or when Sturridge is back to help paper over the cracks.
Below are a couple of formations I would like to see us use against Crystal Palace.
Option 1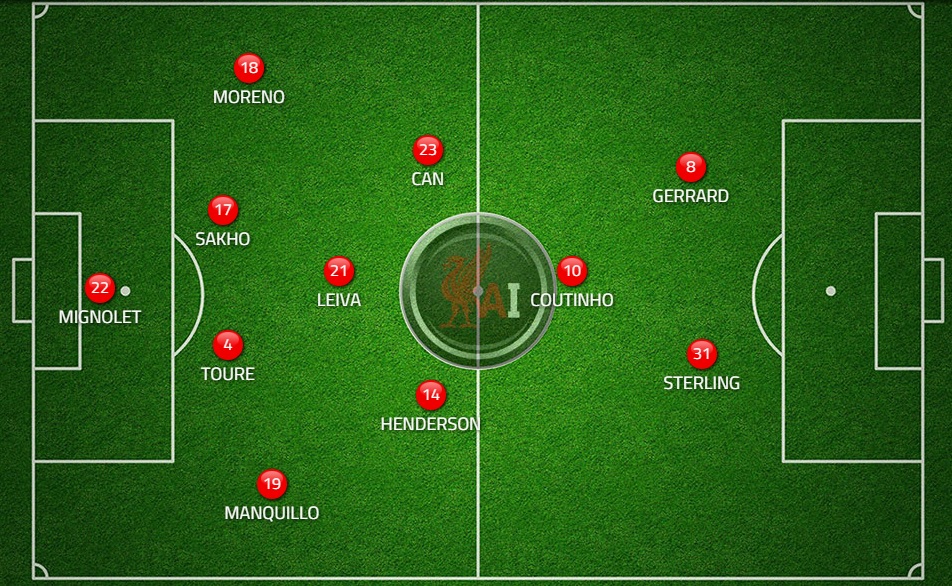 Option 2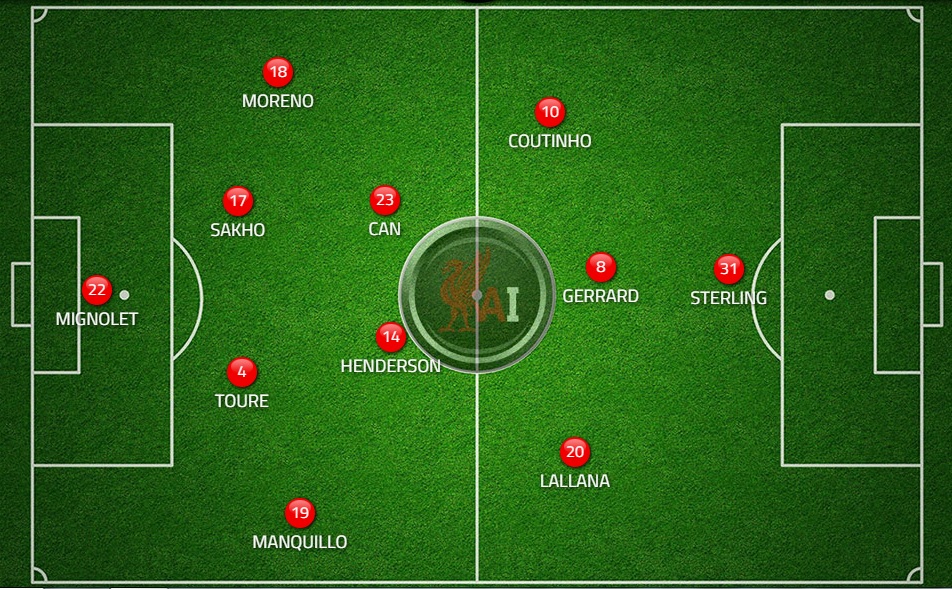 Whether Rodgers agrees, we'll find out soon, but if he doesn't I fear the worst without Sturridge who looks to be out for a further six weeks.  Something has to change and it will ultimately be either – the tactics, the players or the manager.   I'd like to see us try different tactics and players before we lose faith with this manager, but he has to change it we can't do it for him.  I will continue to support Rodgers, as last season was very special I think it gave him a lot of credit in the bank, but I am finding it hard to see a lot of his reasoning this season and something has to change.