Liverpool welcome Arsenal to Anfield today for the late kick-off in what many would consider the game of the weekend. This is the second game against a generally accepted "top team" in as many weeks for the Merseysiders.
The consensus of opinion is that Brendan Rodgers will start with more or less the same side that defeated Bournemouth during the week. Unfortunately it looks as if this will be the case. Despite the positive noises coming from many Liverpool supporters since that match, I still remain unconvinced that both those tactics and the team is one that will get the club anywhere in a hurry and, I believe the way this season has panned out, Rodger should indeed be in a hurry.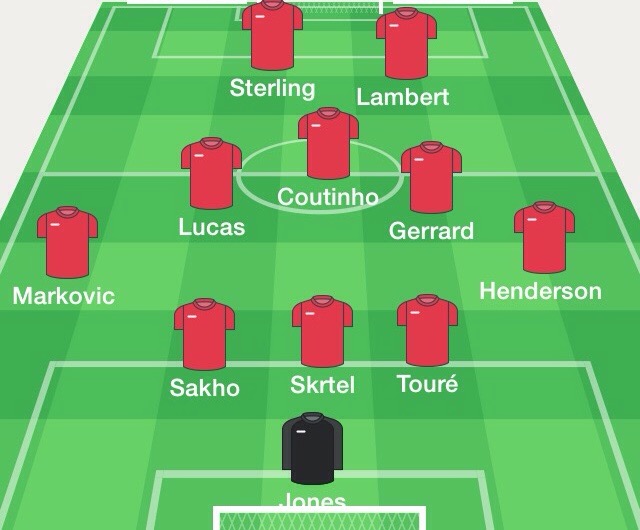 The team on the left is the LFC File pick of the bunch to turn out today. Really, can one look at this team in the same light as say, Chelsea, Manchesters City or United? I wouldn't say so if I'm honest. And openly, it burns the hell out of me to say so. I don't mean to harp on about last season but like it or not, that it the barometer by which the side will be measured in my opinion and it's clear the team has regressed badly.
Much was made of Lazar Marković's performance during the week but for me, he's still way off the pace and what is required for a Liverpool player.  Other more promising prospects such as Emre Can are not being used in a way that will see them develop. A bold and more to the point, common sense move would be to start the German U21 international ahead of Steven Gerrard. For all his influence, the team needs to look ahead. For that to happen, Jordan Henderson needs to be given the captain's armband instead of he and the entire team being forced to remain in Gerrard's shadow. Only then will we see a genuine move forward in this side.
Raheem Sterling playing in a striker's role remains a positive, although Rodgers' public comparison of the 20 year-old to Arsenal's Alexis Sanchez is nothing short of ridiculous in my eyes and is yet another example of the boss's often wayward, inappropriate and simply stupid comments that do nothing to help the player or himself. Raheem Sterling is Raheem Sterling. Point. Liverpool have always focussed on Liverpool and Rodgers will forget this to his and his players' detriment. This will be Sterling's third game as a striker and his return of two goals, compared to Mario Balotelli's zero from 10 leaves no doubt as to the way forward.
Tactically speaking, seeing as Arsenal always play a 4-3-3 formation, I see no point in playing with three central defenders although it's likely Rodgers will do this today. Playing with three defenders only really works against two strikers. The best defensive pairing in my opinion would be Mamadou Sakho and Kolo Touré for today's game. Two technically good, ball-playing defenders who offer more than Martin Skrtel's route one approach to distribution from the back. With the expected set up, I'm not sure Marković and Henderson will cope well with the pace of Arsenal's attackers such as Sanchez, Alex Oxlade-Chamberlain, Theo Walcott, Danny Welbeck and Olivier Giroud. We'll see today but on paper, on current form or indeed, on grass, I don't see anything to disprove my point.
Judging by Liverpool's performances thus far this season, I'm struggling to be optimistic for today's game. Having said that, I am pleased that Sterling is playing up front and with Rickie Lambert partnering him, I think the team will create changes for sure. This is a game in which Philippe Coutinho and Marković should do well because it should be an expansive game and not one where the proverbial bus will be parked in front of either goal.
Arsenal have struggled also this season and a win for Liverpool would put them three points and one place behind the Gooners who occupy sixth. However, considering the north Londoners have scored 10 goals in their last three games compared to Liverpool's four, it's hard to see a win for Rodgers' men.
Despite all of the gloom and Rodgers' apparent inability to draw some decent results from his group of players, I remain optimistic. Foolhardy I know, but I guess that's what being a football supporter is all about. As a Liverpool supporter, it's all we can do right now.
Follow me on Twitter: @Mrbengreen