So with the rest of the Premiership in action this afternoon and my having no interest in watching any of it, I'll cast an eye to Liverpool's match tomorrow when they welcome Garry Monk and his Swansea side to Anfield for the evening kick-off.
Liverpool huffed and puffed to a 0-1 victory away to Burnley on Boxing Day and all LFC fans will be looking for the side to get another three points on the board to maintain the recent momentum. Having watched the whole match – well the whole game inexplicably split into two on LFC GO (I was away on in-law duty on Friday), I actually didn't think the performance was that bad. The first half was a struggle, this is for sure, but I think the team's critics seem to forget that there was another side on the pitch who deserve respect and credit for playing a hard pressing and containing game to frustrate Brendan Rodgers' men and kept the game squeezed throughout. Rodgers and his side should be credited for their second half performance.
Yes, Brad Jones was guilty of trying to check his hair on the giant screen whilst the opposition hit the post, and Simon Mignolet was as jumpy as a box of frogs, on one occasion letting the ball run out of play before kicking it. Apart from that, I thought it was a typical away performance on a bloody freezing December afternoon in the rain against a team fighting to stay in the division. I thought Mamadou Sakho was exceptional in the heart of the defence and was my Man of the Match. Emre Can also had a steady game when he came on for Kolo Touré at half time, and I for one would like to see more of the lad.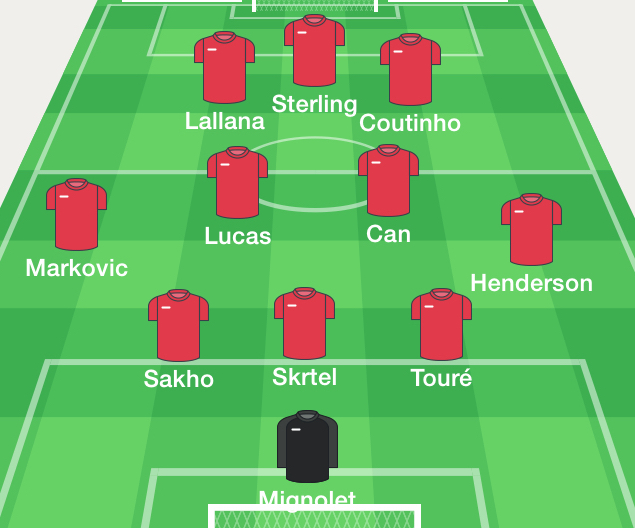 Tomorrow's match against Swansea will be more expansive and I think Liverpool will be able to enjoy a more open game. Liverpool are currently three points behind Swansea in ninth with a shit (-2) goal difference so unless they beat their guests 7-0, which is something even Keith Gillespie wouldn't bet on at the hight of his gambling days, then the benefit of a Reds victory will only help in terms of confidence and maybe later on in the event that they may challenge for a top four or five placed finish. Again, Gillespie's hands are firmly in pocket.
Nonetheless, win they must. Brendan Rodgers has probably used up all of his kudos from last season and there is definitely pressure on him right now. If he sticks with the three-man central defence, Can needs to start. Even if Touré retains his place, I'd like to see the 20 year-old German given a start in midfield in place of Steven Gerrard, whom I'm tired of saying is nowhere his former self and I saw him breakdown more of our own moves than those of the opposition on Friday. Rodgers needs to look forward. His obsession with the 34 year-old is becoming more than just an annoyance.
The attacking trio of Adam Lallana, Philippe Coutinho and Raheem Sterling should retain their places for a match that is ideally suited for them. Adam Lallana is improving with his run in the side playing a more central role and I think there will be more to come from him. Rodgers has set Sterling a target of 15 goals for the remainder of the season and I think, with the chances the team are creating, this should be achievable for him. Beside that, I think Coutinho should also be getting into double figures in the remaining 20 matches. His build up play has improved over the season but his finishing remains woeful.
On another note, David Moyes was seen at Turf Moor on Friday and rumoured to be interested in making a move for Emre Can. My personal opinion on this is that it must be bollocks. Rodgers is right in saying that Can has a big future for Liverpool – probably bigger than his own on the basis of the current situation – so I don't see the ex blue-shite and Manc boss getting any joy with that.
Elsewhere, speculation continues to link Wilfried Bony with a move to Liverpool. This would be a smart move from Rodgers and the talk is that Fabio Borini could go the other way (please god!!). My concern though is that the club still retains the services of Martin Skrtel and although statistically he's a good player, realistically, he's rubbish. Rodgers needs to be looking to shore up the leaky back line as an absolute must. Should John W. Henry entrust him with further funds next month, then a centre back should at least be given equal priority in my opinion.
I don't do predictions, but I am looking forward to a more open game than last time out and for a positive result. I've certainly woken up to the Liverpool that we have before us now and I'm not expecting the team to beat anyone. Liverpool have got to earn the right to win and this means us fans leaving behind the blip that was last season and not thinking we have a god-given right to win every match just because we're Liverpool Football Club. Nice, but some way off the truth I'm afraid. As the Beastie Boys said: You gotta fight for your right to paaaarty!
Follow me on Twitter: @Mrbengreen