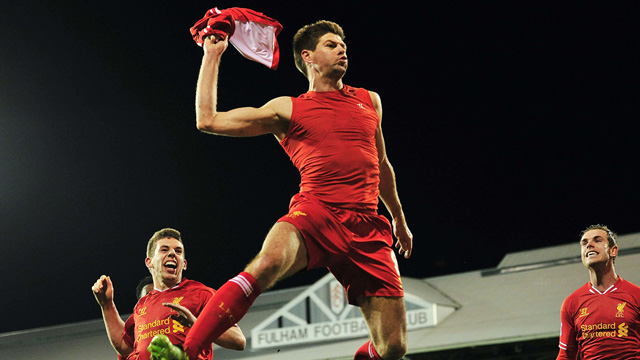 A pivotal point in LFC's history has arrived but is it for positive or negative reasons? Fan reactions have been mixed, pundit reactions split. Steven Gerrard's decision to leave Liverpool FC has caused everyone to look back with nostalgia and look forward with a hint of dread. Let's look at the gap left by the LFC talisman and what reasons we have to be optimistic.

End of an Era
Steven Gerrard's rise to meteoric importance for the club has charted a special kind of success for Liverpool- a local boy turned hero. This story is a sentimental one but Steven Gerrard's growth as a leader pushes sentiment aside, cementing his name in LFC's folklore. Gerrard's stickability in times of desperate need, his ability to ignite revivals almost telepathically and his emergence as a giant amid the best in the game make him truly irreplaceable. A humble figure who has always stayed close to home makes Gerrard's stardom feel less of a barrier but more of a link to the people. He is rare on and off the pitch.
A true Leader
Gerrard has carried 'the Liverpool way' forward. His example has been exceptional, a real model to the new players coming in to the club. I do not have to recount the tributes made to him by current and former players and managers- the sheer abundance screams success. Gerrard has always been a positive force for all players to have worked with him, arguably having a role as important as any manager. His awards and reputation have given him this status and he has used push the club forward in any way he could.
Time to move on?
Before this big announcement there were whisperings that Gerrard's time as an un-droppable player was over. 'He is better coming off the bench,' was a common opinion. Should the club have done more to retain his services in this way akin to Lampard's move to Manchester City or should it be considered that his added value to the club wasn't considered crucial? Gerrard himself admitted it was difficult to be dropped but he knew that his time as a starter was over. Carragher questioned the club's desire to keep Stevie- will this be seen as a failing in the future?
Paving the way for others to shine
There is always an apprentice waiting to fill the masters' shoes. In Liverpool's case Jordan Henderson is a perfect replacement. We have seen glimpses of Henderson's encouraging leadership qualities and very few match his passion and commitment to the game. His position in central midfield brings out the best of his talent and we saw this in Gerrard's absence. He has worked with Steven Gerrard since 2011 and understands the vital importance of a captain's work- to lead, inspire and create change. This could be the perfect time in Henderson's career to come into his own and create his own legacy.
Putting the team first
The times we have seen Steven Gerrard dropped often creates a better team performance and allows others to play in their preferred positions. Steven Gerrard's departure could be seen as his last sacrifice for the team. In leaving, he takes the problem of his service out of the manager's hands and shifts the onus of responsibility onto his team mates who have always risen to the challenge. The 'Gerrard effect' has saved Liverpool FC countless times but recently it could be seen to have had the opposite effect, stunting the presence and contribution of the players on the pitch. Gerrard will be aware of this.
While others have been interchangeable parts in a machine, he has been the core keeping it going. Among the continuing debate one thing is certain: Steven Gerrard is gold. And gold never loses its value, does it?