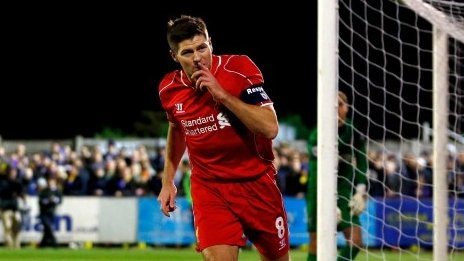 Before I start, I'm fully aware it was AFC Wimbledon and League Two opposition aren't the greatest. With all respect.
It was a classic cup tie last night. The kind that the footballing purist and romantic dream of. The fourth tier side welcoming the Premier League giant to give them an uncomfortable ninety-minutes.
These are games where, stereotypically, you need your battlers and players who are ready to stand up to the physical onslaught. You also need the creative players, ones with a bit of class to separate you from your lower league opponents.
Steven Gerrard's two goals against AFC Wimbledon were examples of his remaining quality and determination. Having announced his intentions to leave at the end of the summer many players in a similar position would down tools but his dedication to Liverpool Football Club doesn't allow him this option.
Quite possibly due to Adam Lallana's injury, Gerrard played in a further attacking role alongside Philippe Coutinho. It's a position where he made his name, won various end of the season awards and forged great partnerships with strikers. As he's gone through his thirties he's gradually developed into a deeper lying midfielder, a position where he's still performed admirably, most notably in the second half of last season's title charge.
However, this season has seen teams devise new ways of how to reduce his effectiveness and his game time has condensed, ultimately leading to his summer departure. His game last season was about starting off attacks more than stopping them from the opposition, something he's been asked to do more this campaign.
He's shown at times that this role isn't his forte and being the creative type is where he's far more comfortable. As mentioned at the top of this article, as some sort of insurance, his performance last night may well have been against lower league opposition but he remained a threat throughout.
His run into the box for the first goal was superbly timed, only matched by his bravery, where his second showed the quality that will always remain.
If he plays against Sunderland on Saturday and produces an identical performance in that more advanced position then talk of him staying will continue.
As soon as his announcement was made on New Year's Day the script could already be set. He'll play at the top of his game, supply assists and get his name on the score sheet countless times as he rolls back the years. If that's the way the season finishes it will be to the benefit of Liverpool Football Club, something Gerrard values highly.
Each press conference, every pre and post-game interview and every hour that Sky Sports News is rolling will, from now until the end of the season, have questions about Steven Gerrard leaving Liverpool, whether it's a good thing or not and should the club try and change his mind.
There's no getting away from that but Gerrard will do his talking on the pitch, potentially raising more questions for journalists, and you just know that fate will play a part and see him produce the form of his life until the summer.
Whether we hear chants recommending Brendan Rodgers to sign Gerrard up for another year will all depend on his performances up until May. Whether he changes his mind depends on a lot more than just goals and assists.
By Michael Williams
@mikewilliams_05