By @LFC4LIFENET
Last time I wrote an article on 19 November (http://www.empireofthekop.com/anfield/2014/11/19/time-brendan-rodgers-pragmatic/), I was asking for Brendan Rodgers to be pragmatic and make changes for the better of the team.  Up until that point the tactics weren't working and Liverpool were looking vulnerable defensively and toothless upfront. To be fair to Rodger since then has had made changes, most notably changing the formation to 3-4-3 and switching Raheem Sterling upfront.  This has led to Liverpool looking much brighter in attack, but is this down to the personnel or the formation?  Also has it improved the side defensively?  These are the questions I will be looking to answer when giving my opinion on whether Liverpool should persist with the 3-4-3 formation.
Before Rodgers decided to change to this formation in the match against Manchester United, Liverpool had the following record in all competitions this season:
Played – 23 games, winning 8, drawing 6 and losing 9.
Scoring – 28 goals, 1.22 goals per game.
Conceding – 31 goals, 1.34 goals per game.
Points – 30 at 1.3 per game.
Obviously doing points per game is not accurate, as you do not get points for cup games.  But it is just to give an idea of how well, or in this case, how badly we were doing at the time.  Some might argue it is not fair to do that when you are including games like Real Madrid in there, which we wouldn't be expected to win.  But the counter argument to that would be we should be expected to beat Ludogorets, Middleborough, Basel and Swansea the other teams we have faced in the cup competitions to more than even that figure out, actually it should enhance it.
So just looking at those stats, let alone the performances, you can see why Rodgers did make the change in formation and putting Sterling upfront with Lallana and Coutinho behind him.  Personally I think he should have put Sterling upfront much earlier as suggested in my last article, six games later before he eventually made the change.  As it was obvious it was not working with Lambert or Balotelli upfront with the team needing more movement, pace, energy and threat.  But at least he did it eventually!
I am calling the formation 3-4-3 for simplicity.  I think it could be argued that it is more of a 3-4-2-1 formation, as when we have the ball Coutinho and Lallana seem to have free roles to go where they like.  However when the team doesn't have the ball, they do have to track back, especially when the opposition full backs get forward, so I think it does look like 3-4-3 as well.  Basically it is 3-4-2-1 in possession and 3-4-3 without the ball, but for simplicity of this article I will be calling it 3-4-3.
I am not a big fan of three at the back, as I think you need specialist players to make the formation work.  There is a reason why not many teams play with it or have been successful using it over the years.    The reason being centre backs like to be central, as that is where they are used to playing and they get protection from their full backs.  When you play three at the back, the right and left centre backs have to go wide and that takes them out of their comfort zones.
I think it is no surprise that the last time we were successful playing that formation was probably in 2005 when Benitez used it against Juventus.  But part of the reason it worked so well that day, was because the right centre back (Carragher) and left centre back (Traore), were both used to playing full back.  Therefore they were comfortable going wide and dealing with defending in those positions.  Toure, Sakho and Can aren't full backs.  Actually last season when Rodgers played Toure and Sakho as full backs against Southampton at home, it didn't work well.   The other thing is in this formation the left and right centre backs are often the outlet, therefore they have more possession of the ball than any other players on the pitch.  I'm not sure we want our centre backs to be on the ball and starting moves as much as they have to in this formation.  Sakho has actually done well despite being played out of position, especially in possession where his passing has been crisp.  However I do think he'd be more comfortable playing centre back in a back four with protection from the full backs and letting them be the outlets as they are used to being in that role.
Another thing I don't like about the formation is it causes confusion.  The easiest position to play out of the three centre backs is the central one in theory as that player is still in their comfort zone.  Ironically though Skrtel has been causing more errors than anyone lately, mainly by not picking up players and taking responsibility, thinking other players will pick up the unmarked attackers.  This cost us against Arsenal in particular.  I am not sure how he was getting in the team ahead of Toure who was our player of the month before those games, but that is another debate.  But lots of the errors have occurred with the back three not taking responsibility and thinking one of the other two centre backs will mark the opposition.  I think that is less likely to happen in a back four.
That's without mentioning Emre Can looks like a midfielder playing in defence.  I guess the reason Rodgers is playing him in that role is because those wide centre backs need to be comfortable on the ball, so he is there for his passing not his defending.  But I don't really think we make much use of this when more often than not he just plays simple passes to Gerrard or Lucas who are close to him.  He has looked very raw defensively in that role, especially against Leicester when he got caught out a number of times.  I think we need to put him back into midfield where he looks more comfortable, suits his strengths more, as he can drive from that position and affect games more with his passing and presence.  He showed this to great effect against Chelsea, scoring and being arguably our man of the match that day.  I find it bizarre that he hasn't had a chance in that position since.  Given we lack size and mobility in that area of the field.
Since Rodgers has changed the formation Liverpool had the following record in all competitions this season:
Played – 7 games, winning 3, drawing 2 and losing 2.
Scoring – 13 goals, 1.86 goals per game.
Conceding – 11 goals, 1.57 goals per game (gpg).
Points – 11 at 1.57 per game (again if we count cup games as points for terms of reference).
So actually the three at the back formation has actually conceded more goals (1.57 gpg) than when we were playing with four at the back (1.34 gpg).  That's without mentioning that we have actually played weak opposition in those seven games including Leicester, Bournemouth, Wimbledon and Burnley.  Even Swansea at home is what I'd consider an easier game as it is one we should win really.  Those stats could be far worse if you consider how many chances Leicester, Bournemouth, Wimbledon and Burnley all missed in those games – all of which could have scored at least two more goals against us, more in most cases.
Wingbacks are also another specialist position.  I think Moreno is perfect for the formation and he is probably the one player which this formation gets the best out of.  As he has not been the best defensively since he has joined the club, but he has looked very exciting in attack.  This formation allows him to defend less and attack more.  However when we started playing this formation Markovic was getting the nod over him, which seemed puzzling to me at the time, although he did quite well in the role, better than I expected.  But on the right we don't seem to have a natural wingback, we either play Henderson out of position or Manquillo, who isn't the best going forward, getting the nod.  This isn't ideal.
Playing Henderson out of position also means we have seen the Lucas and Gerrard combination.  I remember writing about this combination last season (http://www.empireofthekop.com/anfield/2013/10/07/centre-midfield-will-keep-struggling-until-a-change-in-tactics-by-lfc4lifenet/) saying they look worse because under Rodgers we do not push the centre backs up the field.  This makes their job at pressing much harder as the area they have to cover is far greater (see the diagram below).  I still think that is true and we know the centre backs don't push up the field as we never catch anyone offside, I don't think we even try to do this as a team.   However it is clear as a combination they both lack the energy needed to play in a midfield two.  This means we don't press effectively in that area of the pitch and as a result the defence does not get enough protection as it should get.  Some will argue Lucas can do that job as against Swansea alongside Henderson they were fine when we won 4-1.  But Swansea that day only played two in midfield, unlike most teams that play three.  Also they had little interest to press us, making their job much easier than when we played Burnley or Leicester for example.  I think Gerrard should be used higher up the field and Lucas should be used in a midfield three or not at all.  Given Lallana is injured that will probably mean Gerrard will play higher up the field, not sure why it takes injuries for the obvious to happen though – such as Sakho getting a chance over Lovren.  However Lucas still might play and I think in a midfield two that is an issue.
Apart from Moreno, the other two players this formation could be argued to get the best out of is Lallana (which will presumably be now Gerrard) and Coutinho.  Sterling could still thrive upfront playing four at the back in a 4-3-3 or 4-2-3-1 formation, so this formation isn't essential to get the best out of him upfront.  No doubt Coutinho and Lallana have enjoyed the freedom in possession and both players have been very impressive since the change.  However are their roles much different to what they'd have to do in a 4-2-3-1 or 4-3-3 as the wide attacking players?  I don't think so, as in possession in those formations they could both be allowed to roam, yet without the ball they'd still have track back the opposition full backs just like they did in this current formation.  So I wouldn't say this formation is essential for those two players to thrive as well.
Also now Gerrard is most likely going to take Lallana's position after his injury.  Do we want Gerrard tracking back down the flanks every time we lose the ball?  That is going to take as much energy out of him as playing centre midfield did with all that sprinting back and forward.
Current Formation In Possession (3-4-2-1)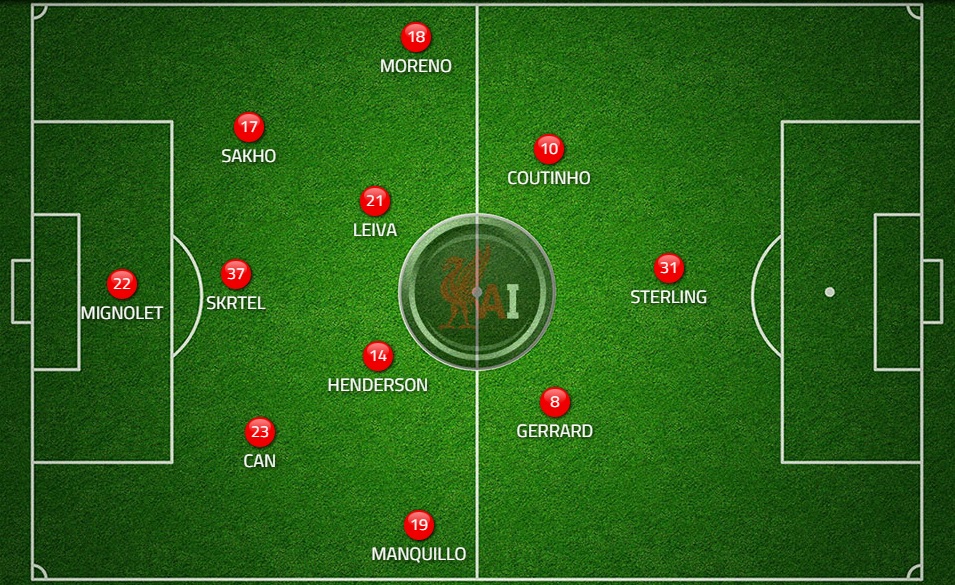 Formation Without Possession (3-4-3)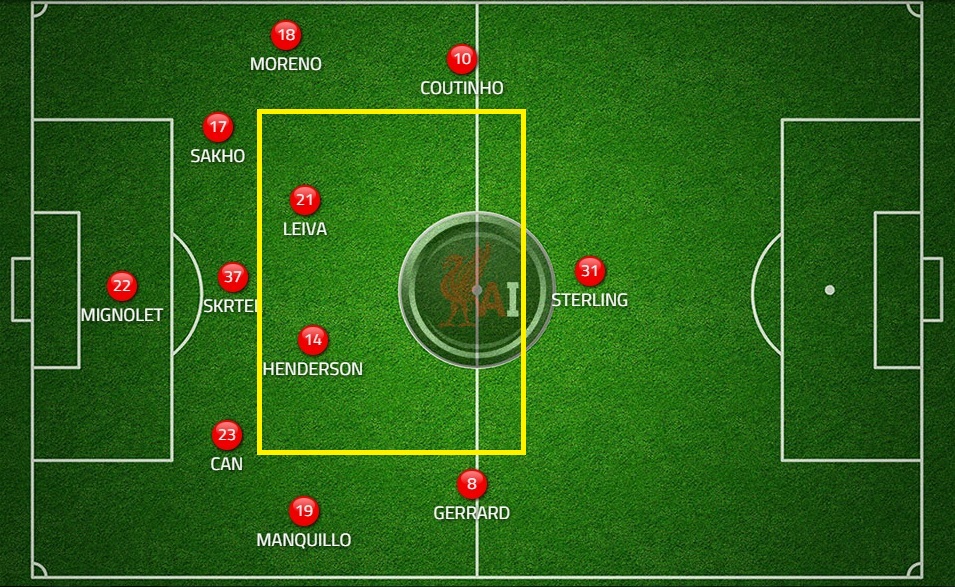 The above picture shows why I feel playing two in centre midfield can really cause problems, as most teams will play with three against us in that area of the pitch so we are getting out numbered. When we lack energy in that area of the pitch when Henderson is used in another role and playing either (or both) of Lucas and Gerrard, then it is another negative point against the formation in my eyes.  Some might argue Coutinho and Lallana are meant to help out if we get out numbered in that area of the pitch, but they can't when the opposition full backs push up, as it is their jobs to track them.
It also highlights the problem a centre midfield have, regardless which two of Henderson, Gerrard, Lucas or even Allen or Can are used.   As with the centre backs reluctant to push up the field the area is very big for a pair to protect.  Therefore it is almost impossible at times to know whether to press or sit back and protect the defence.  I don't think it is possible to press effectively in a midfield two with these tactics without leaving the defence exposed at times.  An extra body in midfield even just sticking on the opposition's defensive midfielder (which Gerrard could do) would help their job significantly.
The positive
The attack has improved significantly since the changes of putting Sterling upfront and playing both Lallana and Coutinho – Scoring 1.86 gpg from 1.22 gpg.  Then again the quality of the opposition might need to be taken into account.  However even in the Arsenal and Manchester United games, we looked much more threatening than we did previously in the season with Balotelli or Lambert upfront and should have scored a lot of goals in those games had our finishing been better.
What would I like to see us do?
The stats (and my eyes) are showing that we were better defensively before going to three at the back.  But obviously we are better now in attack having changed formation.  However personally I think that is mainly down to personnel.  Coutinho and Lallana when they get the ball now have movement upfront.  When they play a through ball, Sterling will make the right run to latch on to those passes, Lambert or Balotelli weren't doing that.  Also Sterling, Lallana and Coutinho all want to play the same way – with lots of passing to feet and hurting teams with their movement, pace or skill.  I see no reason why the attack couldn't be just as good with those three playing together in a 4-3-3 or 4-2-3-1 formation.  As when we have the ball, Coutinho and Lallana can still roam central to link with Sterling.
It makes sense to play four at the back.  The defenders look more comfortable in that system and the stats show we were better defensively playing that way.  It should mean less confusion and the centre backs can concentrate on what they are good at defending centrally, not wide.  Then full backs can deal with the defending in wide areas, as it is what they are used to.   I don't see the point in playing three centre backs, when you have a worse record defensively with that system.  The extra body would be better in midfield helping the pressing and cutting the opposition attacks off at source rather than being reactive and waiting for them to create something.
I think the side should play with more energy and physicality in midfield.   Put Emre Can in his best position and partner him with Henderson.  They are both athletic, good on the ball, can tackle, press and should give the protection the best protection.   In front of them I would play Gerrard in a free role, like he used to play when Torres was here.  It would mean the midfield two would get an extra body to help them when needed.  But Gerrard also needs to be higher up the field where he can hurt the opposition.  Having him in this free central role should enable him to supply Sterling with quick balls on the counter attack, like he used to do to great effect with Torres.  Also this way Gerrard won't have to track back and cover full backs when we don't have the ball, like he'd have to do in the 3-4-3 formation if he took Lallana's role in the side.  It should mean less defensive work for Gerrard, which saves his energy more to hurt the opposition when we have the ball.
Have Coutinho doing what he is currently doing and put Markovic in the role what Lallana was occupying.  In possession they can get close to Sterling and roam central if they want.  Without possession they track back the opposition full backs, just like they have been doing in the 3-4-3 formation.  Sterling continues upfront, until Sturridge comes back and then he might take Markovic's place depending on the performances.
I feel this formation should make the defenders more comfortable.  The defence should get more protection with the extra body in midfield (rather than in defence) and energy Can / Henderson should provide.  Gerrard has less running to do and he can focus on winning us games, rather than being asked to be the engine of the side in centre midfield which at 34 I think is a thankless task.   Sterling should really benefit from having Gerrard behind him as he is the best player we have to supply those through balls to him.  Coutinho can do it as well, but not at the consistent level and standard of Gerrard.  Gerrard will probably relish supplying Sterling (or maybe Sturridge in the future), rather than Lambert who he has partnered when playing higher up the field, who hasn't made runs in behind the opposition and gives little for Gerrard to work with.
Ultimately I think this team would suit the players much more and I'd argue the 3-4-3 formation only really gets the best out of Moreno.   It should make us more solid defensively, yet still having the same threat going forwards.  So personally, I think a change of formation would be better for the team.
Team I'd Pick Against Sunderland