---
I'm sure you've read the title of this and thought "Hendo would have done that already if he could". You'd be partially right. Firstly Jordan Henderson is good, although saving LFC's season is a bit far fetched. But then I'm not talking about him. I'm talking about the 19 year-old, Jordan Ibe.
I'm sure I won't be alone in expressing how grateful, not to mention relieved I am that the club has taken the decision to recall the east Londoner from his loan spell at Derby County. Brendan Rodgers should arguably never have sent him out in the first place. For all the benefit – more accurately, lack of it – that Lazar Marković has brought to the team until very recently, Ibe  could have spent the same time developing at Liverpool instead of in the Championship.
Much talk has been made of Liverpool entering the transfer market this month for a striker or an attacking midfielder given the slow (putting it mildly) progress of Mario Balotelli and Marković. Well, in Ibe Rodgers may just have a way to save the club chucking more money away on an unknown entity in the hope that they'll strike it lucky.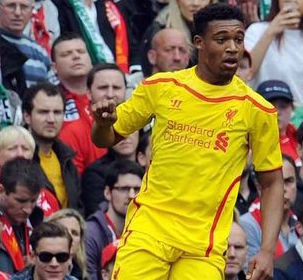 I've said on many occasion, I don't see anything from Marković that makes me think the £20m paid was worthwhile. Nothing that Jordan Ibe couldn't do if I'm honest. Ibe is stronger, quicker and more used to the English game that the, albeit recently improved,  Serbian is so I'm glad the side have seen sense and brought him back. Considering Rodgers' reputation for giving youngsters a chance, I can't really say I've seen much of that. Only Sterling has really come through because there was nobody else. Martin Kelly was sold, Suso hasn't progressed and there's been no sign of Tiago Ilori or Joao Carlos Teixeira.
Jordan Rossiter, has had the odd, and I mean odd cup appearance as anything other than sub. Danny Ward is in the squad only out of necessity and the same can be said about Michael "Jordan" Williams who was on the bench yesterday. That's quite a few "Jordan's" I know but well, if they're all good enough, we could have eleven in the team, for me. Sheyi Ojo has also come into the squad but no sniff of an appearance. It's clear Ibe can contribute.
In the five minutes he came on yesterday, he got a good cross in that caused the Villa defence trouble. If Philippe Coutinho could actually finish the game would have ended on an even more positive note. Against Chelsea in the week is probably one to leave him out of but against Bolton the following Saturday, it's well worth giving the boy a run out, or at least 30 minutes in the second half instead of five. Liverpool have been crying out for ideas in attack. Someone who can get to the by-line and pop a decent cross in. Well, cry no longer. They've had one all along, just in another pair of pants!
Liverpool are improving, this is for sure, however, my personal feeling is that fourth place is probably a bridge too far. It's not a foregone conclusion but it'll be difficult. Very difficult, and should it not happen, then Rodgers has to continue learning by his mistakes as he has done in recent weeks and press on with the young'uns. No more expensive punts in the transfer market on mediocre players who are no better and in some cases worse, than what we already have (step forward Dejan Lovren).
The club needs a striker but for me, I'd wait until the summer and see what Daniel Sturridge can do for the remainder of the season. Let's face it, if he bangs in 10 goals between now and May, and one of the many Jordan's can make an impact, we'll all be singing a different tune.
Follow me on Twitter: @Mrbengreen