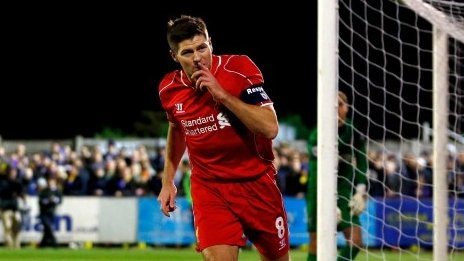 Steven Gerrard in his prime was irreplaceable, fortunately for Liverpool Football Club, it was never needed, as he remained loyal and committed to the Anfield cause. Replacing Stevie G now at what will be 35, is a different matter altogether.
Stevie G is arguably Liverpool's greatest ever player, at a club blessed with a rich history of great players. He has carried the team to a fair degree of success in cup competitions and 2 memorable title challenges.
Over recent years, age has unsurprisingly caught up with him, his continued over use has taken its toll. He is now, ultimately an impact player as much as every fan still wants him to be the Gerrard of old.
That is the real point, and the Chelsea game proved this. In the second half, Liverpool dominated and controlled the game. The midfield battle was won in the middle by Lucas and Henderson, the creativity and flair was delivered by the brilliant, diminutive Coutinho and raw pace and balance of Sterling. Gerrard although solid, was not the reason we played so well, in fact when he came off and was replaced by Lallana, the dominance and creativity became more so.
This was now clear evidence that Liverpool can cope without the 2015 version of Steven Gerrard, and in fact, have better players in each position, that he is now a luxury player. The strongest current team right now does not have Gerrard starting. Brendan Rodgers now needs to stick to the team that finished the Chelsea game, Sturridge aside. This is what will move LFC on into the post Gerrard era, sentiment won't.
This is not supposed to be controversial or disrespectful to a legend, just the bare facts laid out. Gerrard still has a part to play this season for Liverpool , but not as a regular starter. His influence, history and icon status are still needed in and around the club, he needs to help the Henderson transition to captain, and impart his wealth of experience to the new breed coming through.
Liverpool showed on Tuesday night that a post Gerrard world doesn't have to be bleak, and the 'captain' needs to be appreciated in these final few months. How great would a Wembley cameo be as a swan song to a true legend?
Liverpool have Henderson as leader in waiting, Coutinho as the creative mastermind and the raw talent of Sterling, the future is not dark, the future is bright and these players now need to take their chance to become legends in their own right.
By Chris Hutchins (@hutch2111)