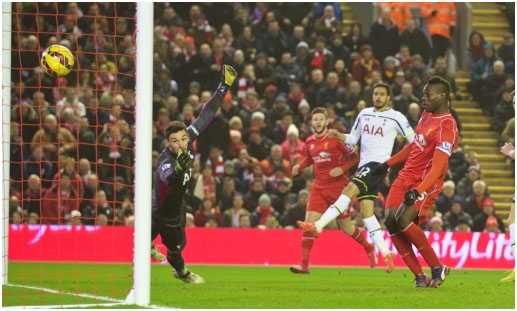 We were treated to a truly a breathtaking game of football on Tuesday night as Liverpool fought for 90 minutes to claim an essential win. Tremendous team spirit and belief prevailed as Spurs threatened to share the points on offer at Anfield, only to have Balotelli smash the back of the net late in the second half. Many of Liverpool's young players impressed in a game without the injured Sterling and Lucas who have been vital to Liverpool's recent success. With the threat of Kane quelled it is safe to say all Reds woke up smiling on Wednesday morning.
Liverpool defending well
Skrtel had a superb game. The unphased Slovakian guarded Mignolet and cut out countless balls. He was a rock in our defence and fully deserves all the praise thrown his way. He intercepted with dominance and made some excellent blocks. Boasting a 100% tackle success rate Skrtel kept Spurs at bay and was a great influence on the game. Mignolet continues his improvement, evident in the noteworthy saves he made. Kicking stills needs huge improvement but we can see his confidence has returned.
Can the Man
Man of the match. Can showed his prowess at only 20 years of age- an exciting prospect. His strength on the ball means his is a counter attacking threat, creating problems for the opposition. His instinct is to get forward and this fits in well with the style of play Rodgers has brought in. His strength is on the ball and is becoming an all-rounder for the team. Although he sometimes shows a lack of discipline he is adapting impressively into this squad and is one to keep an eye on.
Super Mario   
A collective sigh of relief and euphoria swept over fans across the country as Balotelli found the back of the net in the dying minutes. No celebrations came from the man himself as his post goal reaction showed, a statement to all watching that he was simply doing his job. Lallana's cleverly threaded pass must be noted, he did brilliantly to work the ball into the box. Lallana caused a lot of trouble when he came on and this double substitution from the manager created the chance that was badly needed. It was great to see a chance being converted during such a pressured and crucial point in the game. Watching Liverpool's resilience has been a pleasure over the past few fixtures.
Sturridge starts
It was a happy moment for all Liverpool fans seeing their main man on the starting line-up for the first time since August. Although his match fitness needs to develop we saw the Sturridge of old- making runs, working hard and always looking to cut across defenders. Narrowly missing the goal with an audacious back pass Sturridge was close to cementing his return to the starting line up with a truly magnificent effort.
Absence of Sterling and Lucas
Many feared for Liverpool's chances when these two players were ruled out. Part of the impressive statement of intent that Liverpool have laid down is that Sterling and Lucas did not feature. Even without Liverpool's main goal scorer and the man that keeps Liverpool's playing style ticking over, the team pulled out a win when it truly mattered. I hope this sends a message to Sterling's agent.
What more would we like to see?
Goals. Henderson, Coutinho, Balotelli and Lallana need to contribute goals to their game. It is true that the game against Spurs should have been put to bed earlier, but due to Gerrard having a poor game by his standards, Sturridge not being match fit and Sterling and Lucas out, there are only positives to take from this performance and a celebration of the double over a direct rival. Being four points off fourth spot brings Liverpool back in to the race and the excitement once again returns for their next critical match against Southampton.