---
The Italian can't seem to go more than a week without putting himself in the headlines…
Mario Balotelli shouldn't be allowed any social media accounts. The striker was back in the headlines yesterday after posting a bizarre video on Instagram, in which he angrily slammed people for criticising his performances.
SEE MORE:
In-form Liverpool midfielder confident ahead of crucial Man United clash
Man United legend names XI to face Liverpool: Angel Di Maria starts!
Liverpool transfer news
The £16m summer signing from AC Milan has been struggling for form all season, having netted just four goals in all competitions. On Tuesday he uploaded the below video, along with the written message: "For those with an easy judge without knowing s*** about others. Good night. #idowhatiwant-remember!"
So what's next for the Italian? Probably another controversial moment… He just can't avoid them. In the list below, we count down his most memorable moments so far – from the outrageous to the downright ridiculous…
10) The Chicken Hat… need we say more.
9) You think most players worth £16m would have mastered putting on a bib!
8) Balotelli struck up an early reputation for making rash challenges during his Manchester City days, including this one against Dynamo Kiev.
7) The Italian was on borrowed time at Manchester City after this infamous bust-up with Roberto Mancini.
6) Although there was still time for him to send out an important message on firework safety!
5) And, of course, everyone remembers the t-shirt that shot Balotelli to fame for the first time.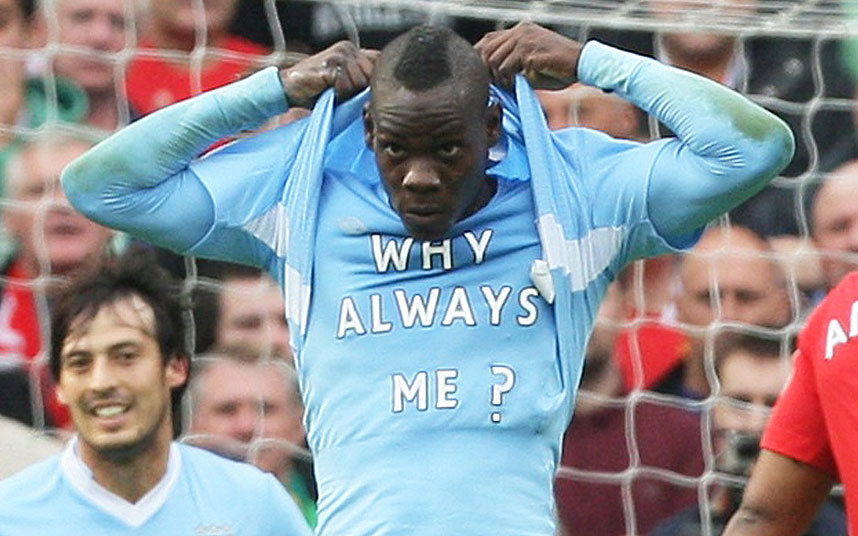 4) Fast forward to his Liverpool days, and he got off to a rocky start, swapping shirts at half-time during the defeat against Real Madrid.
3) Balotelli also chose this season to get Twitter – never a good idea He landed himself in hot water over an inflammatory message that was labelled 'offensive' by the Jewish Leadership Council.
2) The start of the season also saw him break up with his fiancée, Fanny Neguesha, and get caught up in a number of minor scandals with women from the Merseyside area…
1) He has stirred up trouble on the pitch as well, arguing with Jordan Henderson and Daniel Sturridge over who should take a penalty against Besiktas. He did score though…