Liverpool welcome (if you can call it that) Manchester Untied to Anfield this afternoon looking to build on their recent impressive form. As always against the crowd from the other end of the East Lancs Road, this will by no means be an easy task. Brendan Rodgers told The Telegraph recently that he feels his team can challenge for the Premiership next season. Well at around 3:30pm today we'll know if his statement truly has legs or if it's another of the Northern Irishman's infamously exaggerated superlatives.
Team wise, I expect captain Steven Gerrard to remain on the bench, in the hope of sparkling what remaining magic he has if things aren't going to plan after 65 minutes or so.  Mario Balotelli and Lucas Leiva may return after suffering illness (whatever that is) and a thigh strain respectively but overall doubtful. Other than that with the exception of Jordon Ibe and Jon Flanagan, Rodgers can juggle all of his balls – For want of a better expression.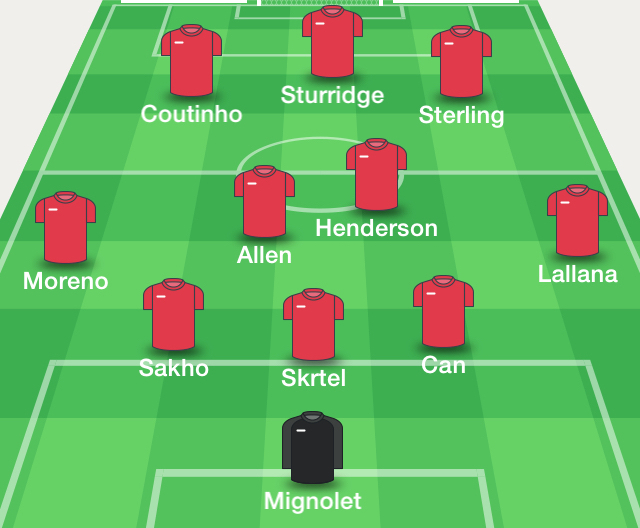 I'd like to see the, thus far this year, almost impermeable back three of Mamadou Sakho, Martin Skrtel and Emre Can starting. If I'm honest, I felt Liverpool rode their luck a bit at the back in their last outing away to Swansea and I'm hoping for a more organised and solid display against a United side who lay one place above them in the Premiership and absolutely stuffed Tottenham last weekend. There is no room for error today.
Jordan Henderson  should be installed in front of the back three, and our own invisible man Joe Allen – who I hope can reap havoc like David McCallum's Dr. Westin did in the 70's hit TV show – alongside him. Alberto Moreno and Adam Lallana can provide the width in the left and right wing back births respectively. The front three of Philippe Coutinho, Raheem Sterling and Daniel Sturridge should provide the firepower. Sturridge hasn't yet hit the heady heights since his return from injury but boy, what better game for a return to form.
The last match against these two was the first time Rodgers deployed this solid and reliable 3-4-2-1 formation. In fairness, the 0-3 scoreline was not a true reflection of Liverpool's performance that day and I don't think many Reds expected the team to kick-on to the point they've arrived at today. Credit Rodgers for that. I'm not going to deny, I was beginning to lose patience with the manager and felt that Liverpool's 13th post-war manager would come a cropper as the number suggests.
Fortunately for us doubters the 42 year-old has proved us all wrong and the team hasn't looked back since that performance. Actually this a formation Liverpool have used many a time in the past with a reasonable amount of success. Albeit not the main prize, we have come close. Most notably, Roy Evans often played three at the back with John Scales, Phil Babb and Neil "Razor" Ruddock. I'd argue, the current trio are much stronger both technically and physically than their predecessors. Graeme Souness claimed on the tele the other week that the team of his day played that too. Much to Jamie Redknapp's amusement!
On current form, you would expect Liverpool to take all of the points today in a match that is the first I look for when the fixture list comes out. An aggressive start is a must in a game where, with both teams playing a similar style, we can expect to see plenty of chances and more than likely, plenty of incident. The Mancs played well in their last game but up until then they've not been the team of old in my opinion and they still have some way to go to convince anybody, let alone their own fans.
So, let's hand over to the men in Red from Liverpool 4. Make the supporters proud and the kop roar loud. Allow us to dream once more.
Follow me on Twitter: @MrBenGreen