But it would certainly be a pricey deal…

Brendan Rodgers appears to have found a replacement for outgoing skipper Steven Gerrard with reports in Italy suggesting Miralem Pjanic is ready to leave Roma this summer.
SEE MORE:
Liverpool transfer news
(Videos) Suso scores stunning brace for AC Milan, with crazy Italian commentary accompaniment
Lucas Leiva 'tutoring' Liverpool U-21s during international break
Italian news source Corriere dello Sport lead with a front-page story today saying it looks as if the talented midfielder is about to 'say goodbye' to his club.
And what's more, it claims we are in prime position to snap him up in the summer with the Bosnian 'ready to say yes' to an Anfield move.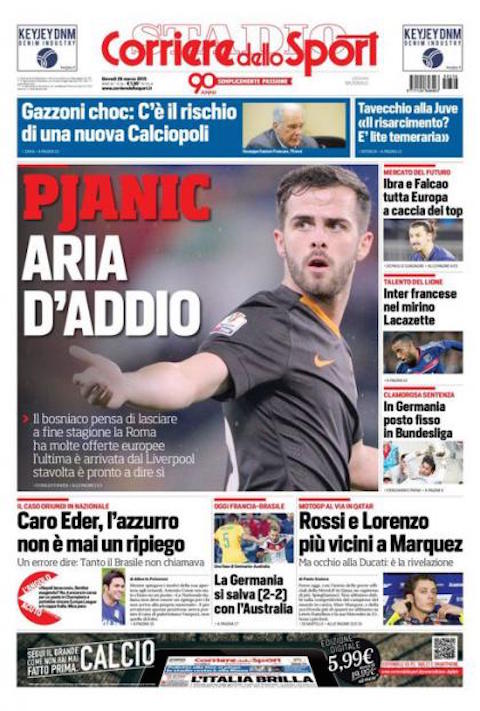 If we did sign the 24-year-old it would go someway to filling the absence Steven Gerrard will leave when he moves to LA Galaxy this summer. Pjanic certainly has superb technique and an admirable team ethic – and is a fans' favourite in the Italian capital as a result.
The move would also be a sign to our rivals that we can still attract major names on the continent no matter our Champions League status – having missed out on a few big names in recent windows, such as Alexis Sanchez.
Whilst this article is certainly nowhere near a confirmation, it's definitely positive news and a step in the right direction if we are to get back to near the top of the pile in 2016.
After losing such an iconic player in Gerrard, a signing of this ilk – and it would be an expensive one – might be crucial, as it would give everyone at the club that extra boost they need to get ready for the next chapter in Liverpool's mighty history.
Is Pjanic our top potential summer signing? And how excited would you be his rumoured arrival, Reds?