Brendan Rodgers saw his side completely anialated at the Emirates Stadium today. Goals from Hector Bellerin, Mezut Özil, Alexis Sanchez and Olivier Giroud put the Merseysiders to the sword to bring them crashing down to earth following a decent run of recent form. Emre Can's late sending off only served to underline a miserable day for the Reds.
Rodgers opted to leave Daniel Sturridge on the bench in favour of Raheem Sterling as the loan striker. The latter doing very little to justify the vociferous stance on his contract position. Kolo Touré came in for the suspended Martin Skrtel to join Mamadou Sakho and Can in defence. Joe Allen and Lucas Leiva sat in front between centre backs Alberto Moreno and Jordan Henderson with Philippe Coutinho, Raheem Sterling and Lazar Marković in attack.
Arsenal started the game brightly and within minutes were spared early embarrassment when Simon Mignolet was on hand to palm Santi Cazorla's effort wide and again when he again sprang to deny the Arsenal attack as Toure endured an torrid first half. After weathering the storm for the first 20 minutes, Liverpool began to find their feet.
The visitors' best chance fell to Sterling although he was unable to reach Marković's centre although in fairness to the England international, the Serbian's pass was less than inch perfect and for me, stank of a complete lack of class and he was quite busy during tis period, I remain bewilderment as to how the hell the club parted with £20m for him. Coutinho went close shortly afterwards with one of this trademark edge-of-the-box efforts only for it to whistle post David Ospina's right hand upright.
Arsenal took the lead through Bellerin who, having slipped past Moreno far too easily, slotted home past the despairing Mignolet. Things then went from bad to worse. Three minutes later with Arsenal back in the ascendancy, Sakho committed a clumsy challenge on Özil in a dangerous position outside the Liverpool penalty area to earn himself a yellow card. The same Özil, who was seen practising free kicks from that very spot in the warm up, stepped up  to show exactly why practise makes perfect as he slid a pinpoint effort wide to the right of Mignolet's outstretched hands. 2-0.  To all intents and purposes game over.
Lucas who was looking ring-rusty at best in his first start since returning from injury gave the ball away in clumsy fashion. Two passes, and a fruitless Toure challenge later, Liverpool were 3-0 down. Sanchez skipping past the Ivorian to smash a class effort past Mignolet. The Reds were sunk. Despite the introduction of Daniel Sturridge and some more urgency to their play in the second period, Rodgers' men were dead and buried.
Liverpool got a consolation through a ropey penalty from Henderson, following a ropey refereeing decision in favour of contract rebel, Sterling. As the final whistle approached, Giroud made it 4-1 with a left foot finish with the clueless Moreno, running along beside him.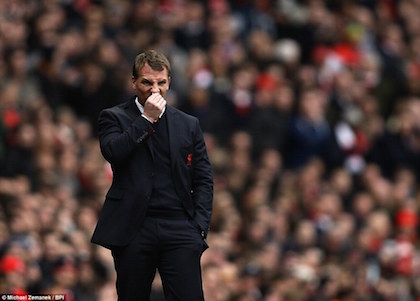 There remains seven games to play and a possible 21 points available. Unless Liverpool get back to winning ways, and quickly, they can kiss European football goodbye, let alone fourth place. With Tottenham playing Burnley tomorrow, it's a good bet Rodgers and co. will find themselves in sixth place before the Easter eggs are eaten.
What struck me was the shear lack of invention from the team today. In the first 20 minutes they were like rabbits caught in the glare of headlights. Rodgers quite rightly pointed out that the Marković, Sterling situation at 0-0 was "A big moment…" in the game and for me, it just summed the team he's built. They cannot stand up when said big moment comes along. Against he likes of Chelsea, Arsenal and Manchester United, the team has been found wanting. Until they can deal with these moments, I don't believe this side can go very far.
It's depressing for sure. Perhaps we're expecting too much too soon and perhaps with experience Marković would have just shot, Moreno wouldn't have been caught out of position – again, and Emre Can wouldn't have got himself sent off. These, for me were the big moments in this game and this lot couldn't hack it. I'd like to see them go back to basics. Back to the football they were playing up until they got stuffed by United. I'd like to see Jon Flanagan play a match that's more than just for charity and Moreno and his charitable defending left out of the side.
Next up is Newcastle at home next week. Three points is an absolute must and if this lot can't provide it, then Rodgers has to start looking at the wider squad in search of solutions. Charity as they say, begins at home.
Follow me on Twitter: @Mrbengreen