---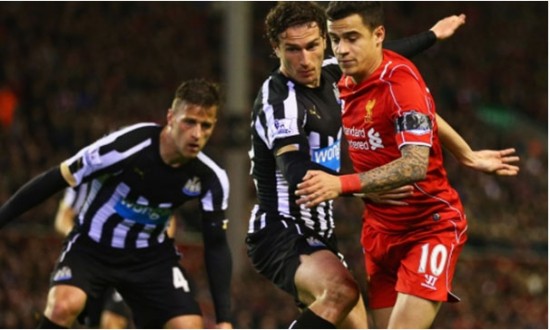 Analysis of the legacy that Brendan Rodgers is building at the club shows that there simply cannot be errors in transfers next season. Small changes must lead to a big impact, not the other way around as it has been this season. How many of the new signings have made a consistent impact apart from Emre Can? Following the performance at home to Newcastle I couldn't help but notice that two players were most prominent in leading the quality in play: Henderson and Coutinho. Along with the disappointments in recent performances we can take solace in these two passionate and dedicated team players to take Liverpool forward. So who should Rodgers consider replacing to raise Liverpool's game?
Glen Johnson
Johnson has been a loyal servant of the club and has made superb contributions both in defence and attack but it is clear that he has lost the prowess to compete at the level required to suit the ambitions of the club. Against Newcastle we saw balls given away without pressure, a lack of pace and a rash element to decision making. It is rumoured that Johnson has been offered a contract which he has rejected, so ultimately there is still a belief in his service but I will not be sad for the future of the club if he was to move on.
Kolo Toure
Toure has been a real leader at times this season when he has been required to- a rarity this season. Although he is an experienced international, Toure lacks the pace to deal with the ever increasing quality of the Premiership's strikers. His contribution to Liverpool's campaigns have been more to do with leadership and presence on the field and for that it was a shrewd signing in replace of Carragher but the time has come to let him go.
Ricky Lambert
I am thrilled for Lambert that he managed to live his dream and play for the club he passionately supports, but I feel it has come too late. Lambert is a peripheral player at the moment brought on as cover in the dying minutes of games. If Liverpool want to truly challenge at the top we need players of a much higher calibre.
Fabio Borini
I was a fan of Borini when Liverpool first signed him- he had pace and always got himself in excellent attacking positions. However he has never moved up from this and scored the vital goals Liverpool needed. I had hoped the departure of Suarez would make way for his emergence and was impressed by his insistence for fighting for a place within Liverpool's first team. Overall his contribution has been minimal and although I do believe he will go elsewhere and be successful there is no sentimentality if progress is to be made and Borini needs to make his name elsewhere.
Mario Balotelli
What can I say that hasn't already been said? No one really knows whether Rodgers is indeed 'planning for a future without him' or whether lack of fitness and performance in training has continuously left him out of the squad. What we do know nevertheless, is that his performances haven't been at the level required. He is a truly talented player but consistency has never been his strong point and this has ultimately been his downfall for the club. Time to move on.
Enrique, Coates, Aspas and Alberto
I'm sure many have forgotten about these players that have been loaned out and are still on Liverpool's books. Rodgers needs to de-clutter and pave the way for fresh, hungry players into the team.
Lastly, a talented challenger for Mignolet
The sign of a great goalkeeper is the ability to come back from poor form. Mignolet has shown this and what a relief it has been. December was a dark time for Liverpool but we have come back stronger and this is down to the excellent form of the Belgian. Having said that, there must be a challenger and it seems that Brad Jones is not that person. We need two goalkeepers able to compete at the highest level and this is fundamental to any successful club.
What can we learn?
It is clear that our midfield is currently our strong point. Henderson, Coutinho, Sterling, Lucas, Lallana, Ibe and Allen have been the driving force of the club when most needed. To challenge we must strengthen in proven quality.
Name: R. El Jumaili