By Mark Chrystal
On September 29th, 2014 I published an article on this site suggesting that Liverpool could finish no higher than 5th place in the 14/15 season.  This perspective was based on analysis of the prior 20 seasons, where only once had a team started the season so poorly and still finished in the top 4.  Despite the mid-season improvement, which gave hope to all LFC fans, the weaknesses of the team and manager have been exposed again over recent weeks.
On April 23rdThe Guardian newspaper quoted Brendan Rodgers as stating that he is the best person to deliver FSG's goals for Liverpool FC.  He also posited that Liverpool are making progress, given that when he took over they were an 8th placed team with a League Cup final win.  We can debate the merits of that statement, given the team's strong league performance last year.  However, I believe that a study of the actual performance of the team across all competitions is actually the fairest way to settle this debate.
In order to determine if performance has improved, I compiled the results of every competitive match Liverpool FC has played since they last won the league title.  This analysis includes performance in all cup competitions, and awards 3 points for a win and 1 point for a draw in each cup competition.  In addition, I awarded 3, 6 and 10 points for appearances in the League Cup, FA Cup/Europa League, and Champions League finals, respectively.  In addition, I doubled the appearance points total for winning the tournament.  For example, an appearance and a win in an FA Cup final was rewarded with 12 additional points for the season (see "Bonus Pts" column).  I also assumed that the team would gain 7 points from the remaining 4 games of the '14/15 season.  It is on this basis, that I combined all of the league and cup results and compiled the following table: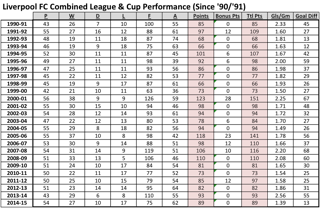 Whether analyzing performance based on a pure points per win method or with the inclusion of a bonus for cup finals, it is clear that current performance is average compared to the prior 24 seasons.  In fact, the average total points tally since 90/91 is 89, and including cup bonus points is actually 94.  This would place the 14/15 season at the average of the time period, or even slightly below average using cup final bonus points.    On this basis, the season prior to Rodger's appointment should likely be deemed as more successful than 2 out of Rodger's 3 seasons.  When comparing to the 11/12 season, the current season will see more losses, more goals against, fewer goals scored and fewer trophy chances.  Consequently, the data suggests that Rodger's claims are not entirely fact based.
The chart below shows the total points collected by season, including cup final bonus points.  From this chart, one can see that performance over the past 4 seasons has been very average, by Liverpool's standards, since 90/91.  The black trend line actually suggests that performance has declined since the turn of the new decade, compared to the prior decade.  What can clearly be claimed is that recent performance has improved since the 10/11 season.  Yet, this improvement has been to return to consistently average performance compared to the average of the prior 24 seasons.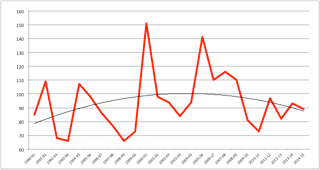 In my opinion, the combined results data indicates that recent performance has plateaued and is not improving.  Either the team performs well in the league or well in the cups, but not in both together.  In order to break out of this trend, in my opinion, FSG need to employ a disruptive management approach.  In order to disrupt the current performance equilibrium a meaningful change in strategy and/or leadership is required.  I know each of you will form your own conclusions about whether LFC is making progress or not.  I hope that the data provided in this article helps you to do so.  Please let me know if you agree or disagree with my conclusion.  Above all, YNWA.
You can follow Mark on twitter: @mkjchrystal