Yesterday marked a sad day for Liverpool Football Club as captain fantastic Steven Gerrard played his last – competitive at least – match in front of an adoring, packed Anfield crowd. In fairness, it's about time too as a high wide and handsome free kick, a string of mis-placed passes and wilting legs proved. The mercurial Number 8 will now move on to challenges new in the less demanding  environment of Major League Soccer.
I remember Steven Gerrard's debut well in November 1998. Anfield old boy Ian St. John commented "…The lad doesn't look much, but I hear he's got some potential…' Dot, dot, dot. The rest is history. Three League Cups, two FA Cups, two UEFA Super Cups, one FA Community Shield, one UEFA Cup and of course, that Champions League victory in 2005 make St John's words seem like the biggest understatement I've ever heard. There's no doubt the 34 year-old from Whiston will go down as one of, possibly the greatest player ever to wear the famous red jersey.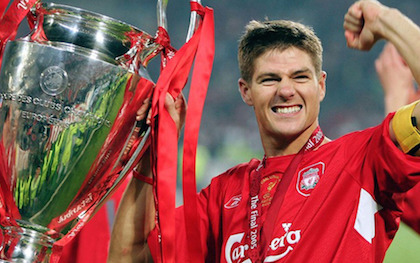 Personally, I'd put Kenny Dalglish, Ian Rush ahead of him and perhaps Graeme Souness and maybe John Barnes on a par with him. His contribution to the club has been nothing short of immense and in that I don't believe there is an understatement. I remember watching his performance in the Champions League final against AC Milan which many will agree was arguably his greatest moment in a Liverpool shirt. With the assistance of what I would say was the best display of tactical nous I've ever seen from Rafa Benitez – Gerrard instrumental therein. I'm proud to have seen him play and take this opportunity to say my personal thanks for the memories and the influence he's had on the club and the fans.
However, all that said, life goes on. Gerrard pointed out to Gary Lineker yesterday the best side he played in was that with Sami Hyypia, Javier Mascherano, Xabi Alonso, Fernando Torres. I'm inclined to agree with that. Without a shadow of a doubt but where are we now? What kind of team is the local hero leaving behind?
The current side has potential, this is for sure. Probably more potential than we give them credit for. The biggest ask of Brendan Rodgers now is to make the most of life without the luxury that Gerard Houllier, Benitez, Roy Hodgson, and Dalglish (albeit briefly) enjoyed so well – the chance to pick one of the greatest players of the modern era in their sides. This is no more and it'll be interesting to see how the team does now and going forward. One telling insight came during Gerrard's farewell speech at Anfield yesterday. When asked "Are you optimistic that the club is in the right place and can move on without you?" the soon to be ex-skipper replied: "If you go on today's performance, every chance…". with an ironic grin. He was clearly talking about himself!
I think he hit the nail on the head with that statement. The Gerrard that has been so influential up until now is no longer the man he once was. His passing ability is leaving at stage right, and his free kick ability is almost out of sight. So alas he's taken his bow, a tear and a final good night. Sad but true. Without taking anything away from a fantastic Crystal Palace performance, Liverpool played with 10.5 outfield players yesterday. I'd even go so far as to say he was more of a hinderance to the side. I took a good look at the league this morning, and as I say on numerous occasions: The table doesn't lie. This is not simply true for the team, but is also telling for the outgoing captain.
The simple fact of the matter is that Rodgers's players have done better without Gerrard in the side. If we look at the season as a whole, Stevie G. has played in 76% of the matches (28), of which the team has won just 39% of the time (11). Without him, the matches played (9) the team has a 78% win rate (7). Go figure. Eight of those nine matches have been played this year. There period when he has played the least and LFC has seen the most success. I don't believe this is a coincidence. It's time for the remaining players to come into their own and make their own legacies. There is, without doubt reason to be cheerful.
It's my personal opinion that the players left will ultimately play better now Gerrard has gone if the season stats are to be believed. The recent run of form I would say is as much due to the absence of Mamadou Sakho as the presence of Gerrard. I'm not surprised the side has a greater win rate with the French international in it than not. Same goes for Emre Can who many forget is still only 21.
The likes of Jordon Ibe and Jerome Sinclair (Ibe's long lost twin!) need to be given a good run in the side next season and as a result will save the club a good few quid. Same goes for Cameron Brannagan who must be worth a chance next season and beyond. Rodgers can't afford any more mediocre players coming through the door. More of that and he'll end up going the opposite way! For me, it's quality over quantity. All or nothing. With that in mind and a settled, slightly more mature side come next season, we might well have a chance to improve.
Steven George Gerrard. I thank you. The king is dead, long live the king. Who will it be? This is the thing. Liverpool first team squad: step up and throw your hats into the ring. Your throne awaits.
Follow me on Twitter: @MrBenGreen