---
The fuss surrounding Raheem Sterling continues, with owners Fenway Sports Group stating they intend to hold the 20 year-old to his contract, and Brendan Rodgers blaming the youngster's agent Aidy Ward blah, blah, blah. But hold on, Isn't this what FSG and John W. Henry wanted?
It's been well publicised that the Boston-based outfit shy away from buying established and proven talent in preference of developing potential. Well, this being the case, welcome home, Mr. Henry. Be careful what you wish for. The fact is, whilst this may be an attractive approach, it is fraught with Risk. A more than suitable example being the situation now playing out with Sterling. The reality is that heads of young talent are easily turned when agents, press and player alike begin to believe in their own legend before they even have one to speak of. Realistically, the only thing the club can and should do with Sterling is to sell him and I fail to see why FSG are making the noises they are.
There is often a huge risk to development – whether in football or any other industry, and more often than not, the finished product may not yield the rewards expected, if at all it ever gets that far. In the young Jamaica born forward this is the opposite.  This is a player the club bought for £600k five years ago – probably around £5m now with add-ons – and is potentially worth around 50 times that if current figures are to be believed. Is he the finished article? Many would say, "No". In terms of John W. Henry's transfer "strategy", is this not one of the inevitable risks that need to be accepted? The answer is undoubtedly, "Yes". A 500% profit would justify their approach and one can't ask for a better return that!
Let's not fool ourselves. LFC is a business after all. The player should be sold forthwith so the investment in development can be monetised and further continued. There is also the matter of stadium development to pay for which can't be ignored. The £115m loan needs to be repaied somehow.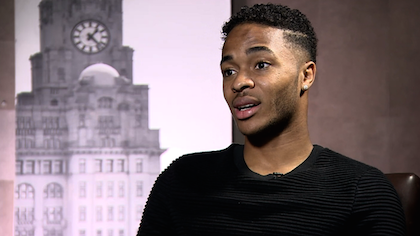 What's also worth mentioning is that the FSG strategy is no more than a numbers game. As, quite rightly, pointed out by fellow Empire of the Kop writer Jordan Harris, Liverpool right now, are sitting on an embarrassment of riches in terms of young talent. There are currently at least six young players who have at least the same, if not more potential than Sterling and I'd be hard pressed to believe that they're all going to get ahead of themselves and demand a move to "…A bigger club…" for "…Purely footballing reasons…" or whatever drivel they serve up as justification. And for those six, there is probably another six or seven we could all mention who have high potential to make the first team in the short to medium term.
I can only agree with FSG if they take it one step further. The funds raised from those such as Sterling, should be used to support a marquee signing or two of concrete, recognised and proven quality. This is a must. Rodgers should be encouraged to purchase a top quality striker to compliment Daniel Sturridge when he returns from fitness, and a proven central midfielder. If not, then Liverpool may as well change it's name to LFC Eindhoven akin to another great football club renown for developing players and then selling them on without any concrete achievement or "kicking on" to that next level despite sitting on what one would suspect to be a humungous pile of cash.
Players will come and go. Some are sold but also some will stay and this is why we need not cry over any spilt Sterling (or milk to use the correct phrasing). We move on. The Liverpool FC website lists 42 players as being in their first team squad. It's time these players are given a fair and proper chance to progress if the FSG strategy is to succeed. Next season the likes of Divock Origi, Jerome Sinclair, Andre Wisdom, Jordon Ibe and Joao Teixeira  and the numerous others should all be either brought back from loan and/or given the chance to continue their development in the first team. A loan is good to a point but I'd argue that loaning a player out to a lower level team is just as likely to harm their development as they get accustomed to a lesser standard of football.
Many LFC fans tend to give me stick for this, but the reality is that most of the greatest teams on this planet, the likes of Barcelona, Bayern Munich, Real Madrid, Juventus and, even though it burns me to say it, Manchester United have all been successful on the back of having four, five or more home grown and developed players, complemented with the best players. No great player was born 25 years old and had no need to move to a bigger club etc. They have all needed to develop and get their chance. Some move on to do that, some stay. Big deal. It's certainly not the end of the world by any stretch of the imagination.
Liverpool are in a good place. They have a good base of young players with which to progress. The manager has a chance to bring in one or two top quality players over the close season and start again next year. We can only support that and see where the club is this time next year.
Follow me on Twitter: @MrBenGreen