Now the season has reached its conclusion, it is time to reflect on a campaign that showed some promise, led to some frustration, and left Brendan Rodgers with a lot to ponder going into the most important transfer window since his arrival three years ago.
READ MORE:
Liverpool Transfer Rumours
Rafa Benitez is 99% certain to join Real Madrid
Comparing Raheem Sterling with Lionel Messi and Cristiano Ronaldo at the same age
While we are hoping for some big signings, there are also some players that we are keen to see shipped on. But, do the statistics back up our feelings on how our squad have played this year?
Here are the average ratings for our entire team, as provided by WhoScored.
25. Jerome Sinclair (5.96)
The youngster made a couple of substitute appearances in the latter stages of games late on in the season, so it is unfair to have such a low rating. Hopefully next season, he will receive more of a chance whether it be at Anfield, or out on loan.
24. Brad Jones (6.20)
The Australian looks set to bid a fond farewell to Merseyside with his contract due to expire (via the Liverpool Echo). His three appearances in the Premier League came when Rodgers decided to drop Simon Mignolet in December. However, an injury during the win against Burnley saw the Belgian recalled. Like Sinclair, his rating is slightly harsh, given the fact that two of his appearances came against Manchester United and Arsenal.
23. Fabio Borini (6.22)
There would be few tears shed if the former Chelsea man was to leave the club in the summer. He scored one goal this season, and got sent off late on in the draw against Arsenal in December.
22. Rickie Lambert (6.33)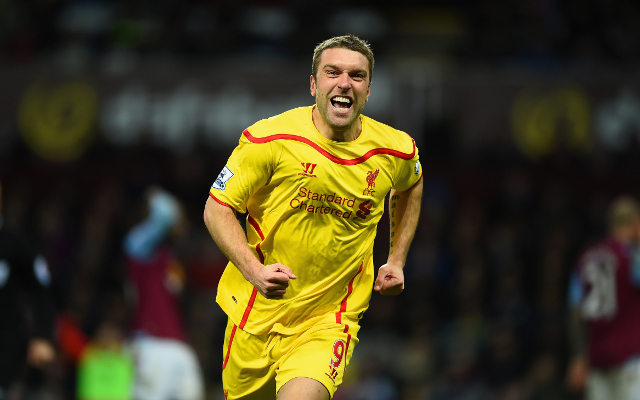 Having featured from the bench from most of the campaign, it is little surprise that his goals return is nowhere near good enough. The 33-year-old has scored two times in the top flight, and created two more. It is quite possible that his flick on for Steven Gerrard's strike against Stoke may be one of his last actions for the club.
21. Jose Enrique (6.34)
Injuries have restricted the ex-Newcastle man to just four games this year. Unfortunately, his only contribution this season has been the continual updates he seems to post on Instagram.