by Anthony Lam Johnston
After Liverpool's memorable visit to Australia two years ago in front of 95,000 supporters at the Melbourne Cricket Ground, Brendan Rodgers is set to prepare his Reds for another trip down-under this July.
Liverpool will kick-start their Australian tour with a visit to Lang Park in Queensland on the 17th of July to face Brisbane Roar, before travelling to South Australia to face Adelaide United on the 20th of July.
"We visited Australia for the first time two years ago and the support we received from our Australian fans was incredible," Liverpool chief executive Ian Ayre said in a club statement.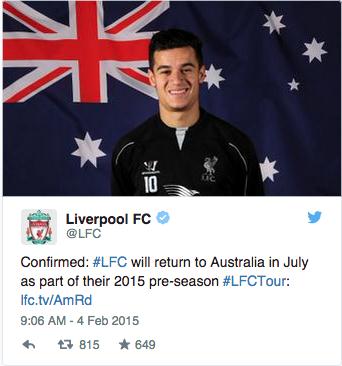 "Liverpool FC have more than 600,000 supporters in Australia and we look forward to meeting as many of them as possible while we are in the country."
Getting to know the 'friendly opponents'
Brisbane Roar – 17th of July:
(2) A-League Premierships: 2010-2011, 2013-2014
(3) A-League Championships: 2011, 2012, 2014 (Record)
Record for most consecutive undefeated games in A-League history (36 league games – spanning over 2 seasons)
Despite only finishing 6th on the A-League table last year, Brisbane Roar are historically one of Australia's most successful football clubs with a record three A-League Championships. Brisbane Roar also boasts international talent with former Borussia Monchengladbach attacking-midfielder, Thomas Broich, a notable fan favourite. Thomas Broich holds the record for the most Johnny Warren Medals with two next to his name. The prestigious medal is awarded to the Best Player of the Season and is voted upon by the players within the league.
Adelaide United – 20th of July:
(1) A-League Premierships: 2005-2006
(1) FFA Cup: 2014
(1) AFC Champions League: Runners-up 2008
(1) FIFA Club World Cup: Fifth place 2008
Record for greatest win in an A-League game: (8-1 against North Queensland Fury in 2011, 7-0 against Newcastle Jets FC in 2015)
Adelaide United were premiership winners in the inaugural A-League season, finishing 7 points clear of the rest of the competition. After finishing 3rd in the A-League table last year, Adelaide United will hope to capitalise on their impressive campaign with a pre-season victory over Liverpool. Adelaide United are known for their associations with FC Barcelona as their Manager, Josep Gombau, was the Youth Coach at Barcelona between 2003 and 2009 overlooking the likes of Jordi Alba, Gerard Piqué and Lionel Messi. As well as their coach, Adelaide United stars Isaías and Sergio Cirio were both youth graduates from FC Barcelona's La Masia Academy. Former Galatasary midfielder Marcelo Carrusca is another talent, which bolsters Adelaide United's line up.
Liverpool will also travel to Thailand and Malaysia as part of their 2015 Tour as they shape up for the upcoming season in search of Champions League football back at Anfield once again.