---
We have made a number of fantastic new signings already this summer, and the transfer window isn't even open yet. With all the new names arriving at the club, it's hard to field a starting XI that includes all (or even most) of our star players.
The Observer have found a solution though, and that is to make the most ridiculous Liverpool starting XI in the history of the game.
SEE MORE:
Five remaining Liverpool striker targets following Carlos Bacca's Serie A switch
Twelve things to know about Hernanes, our new 'number one midfield target'
Philippe Coutinho reveals the words that convinced Roberto Firmino to join Liverpool
The picture can be seen below, and it's impossible to know where to start really.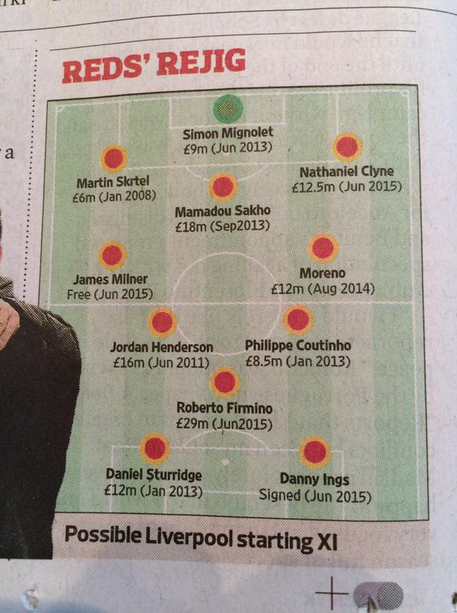 Brendan Rodger's didn't always enjoy huge success when deploying three at the back, and with the signings we've made so far it's hard to see him going back to it. That hasn't stopped this reporter from using it though, and he's made some very strange choices indeed.
Southampton right-back Nathaniel Clyne looks set to be the latest addition to our side, and it would be extremely bizarre to deploy him as a left-sided central defender – as this reporter has done.
He has also decided that defence isn't really important, and has crammed Daniel Sturridge, Danny Ings, Roberto Firmino, and Philippe Coutinho into the side – as well as Jordan Henderson and James Milner.
This formation would surely see us crash and burn, and we should just thank our lucky stars this guy isn't in charge of the lineups.