---
Is this as clear an indication that Christian Benteke would prefer to join Manchester United than Liverpool as it seems…?
Today, the Aston Villa forward, who is the favourite to sign for us with our £49m Raheem Sterling windfall, favourited a tweet from a Manchester United fan which claimed the forward is, 'exactly what we need tbh, just needs to be backup to Rooney'.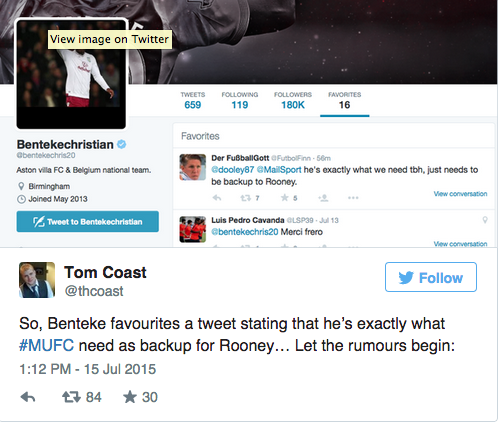 Even more weirdly, Benteke isn't even mentioned or tagged in the tweet, meaning he actively sought it out in order to favourite it.
Most Liverpool fans are already sceptical about signing the powerful forward, as he doesn't obviously suit our style of play, and similarly built strikers have struggled under Brendan Rodgers.
But if this proves to be legitimate, as it very much seems to be from his official account, then we should be avoiding Benteke like the plague.
We want strikers desperate to represent and score goals for Liverpool, and not those more keen on doing it in the crude United red.