---
By @LFC4LIFENET
Liverpool go into the new season, with lots of fresh faces and the emphasis seems to be on adding more energy to the side.  James Milner and Nathaniel Clyne, for example, should offer more running and mobility than Steven Gerrard and Glen Johnson did last season.
Brendan Rodgers said after the Adelaide game talking about Milner and Henderson – "He and Jordan Henderson could run to Adelaide!
"The work they put into a game, how they press, how they run, but also the quality."
A lot of Liverpool fans seem to be very excited at the energy we have in the side and the additions of Milner, Clyne, Firmino etc should help with the pressing.  In theory pressing is essential.  You win the ball back quicker and in more dangerous areas of the pitch.  Closing down opponents also gives them less time on the ball to hurt you.  So you can force errors.
There is no doubt, if done right pressing is extremely important in football.  The best teams are often the best at pressing, as Barca showed under Guardiola.  However if not done right, then it can be damaging and that is my fear with this new LFC team going into the new season.  We seem to have all the energy and the right intent to press in theory, but in practice we don't seem to do it effectively.
Two years ago I wrote an article (http://www.empireofthekop.com/2013/10/07/centre-midfield-will-keep-struggling-until-a-change-in-tactics-by-lfc4lifenet/) about the tactics from Rodgers which were making our centre midfield (Lucas & Gerrard at the time), look far worse than they were.  To summarise, as it is a long article, I thought the centre midfield had a thankless task.  The idea was for the team to press, but our centre backs were dropping deep.  This gave them a problem, as the centre midfield needed to drop deep to protect the centre backs, but as a result we were not pressing well and more often than not getting overrun in midfield.  Basically there was too much space for them to cover, due to the openness of our game.  I said at the time either the centre backs needed to push up the field more or we needed three in centre midfield to help cover that massive space more (ideally both). As it turned out later in the season Lucas or Gerrard were usually the deepest midfielders and they had two of Henderson, Allen or Coutinho ahead of them doing the pressing for them.  This made us a better team, however it did not totally solve the issue and we were still vulnerable, which cost us eventually.
Two years on and I have similar concerns. I do think our centre midfield has more energy now Gerrard has left.  However I fear we lack some intelligence and I do feel we are too open when we don't have the ball.  Being open as a side, makes it very hard to press effectively as a team.  When sides beat the press, which is easily done as we aren't doing it effectively, then we are vulnerable.
Currently our approach in the last few years under Rodgers, and that doesn't appear to be changing looking at pre season, is to press high.  However when we don't have the ball our centre backs drop deep.  This makes pressing difficult and it leaves the DM and CBs very exposed, especially as our full backs are asked to push high up the field as well.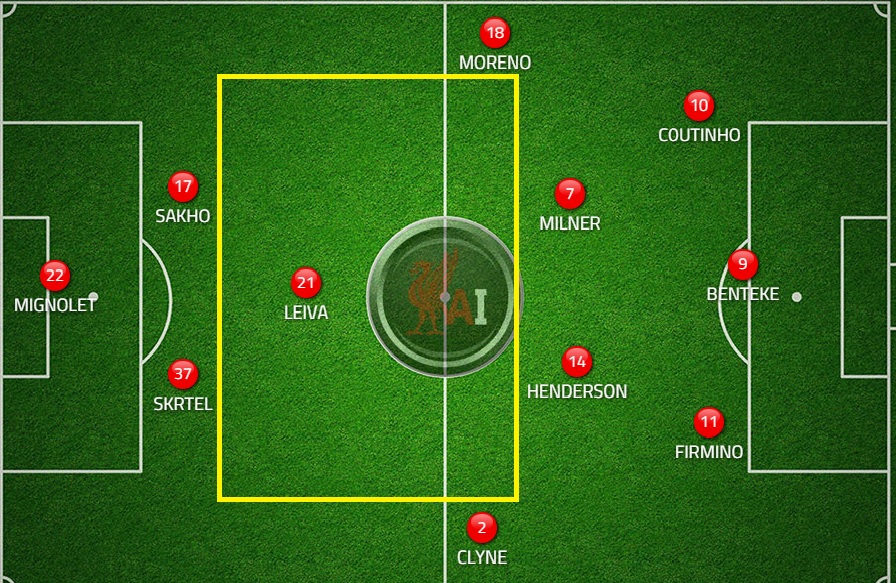 Milner has talked about how he likes it how everyone at LFC works together, fighting for the ball as a pack.  This again sounds good, but the problem is our midfield all seem to be going towards the ball, all at the same time on occasions, leaving space in front of the defence, which have been exploited in pre season leading to goals.  This is where I feel we lack some intelligence.  One of the players should be not attracted to the ball and should be protecting the area in front of the central defenders.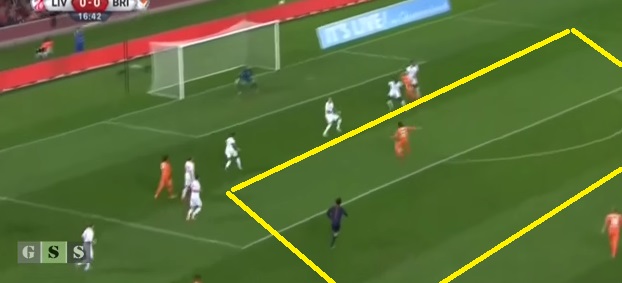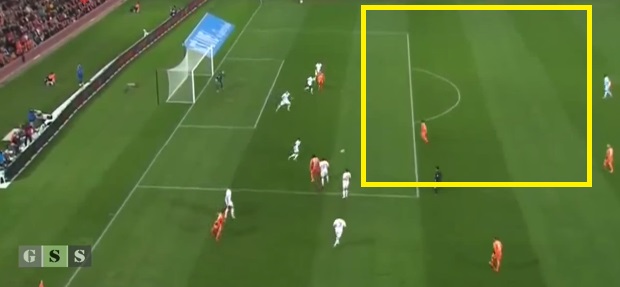 There seems to be a lot of calls this summer for a new defensive midfielder.  Lucas is described as too slow and lacks mobility for the role.  I agree that a player with more energy would help.  However we could have Mascherano in that position and he would still be exploited due to the vast amount of space he is meant to be covering, as highlighted again in our pre season: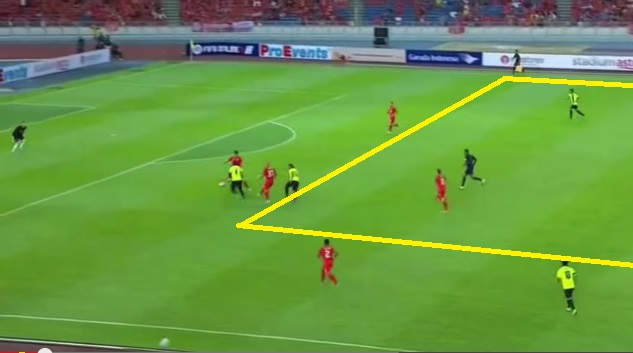 Lucas was actually the top tackler in the league last season, per game.  This suggests to me that he is not the problem and it is the openness and tactics which are the issue.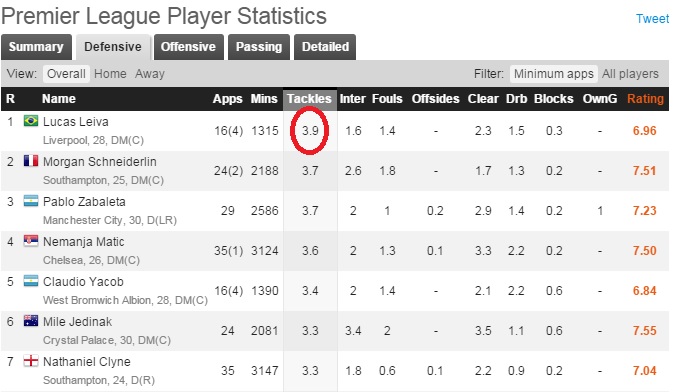 (Source – Whoscored.com)
If the side was more compact without the ball then Lucas would be even more effective and his weaknesses would be reduced.  But I think his weaknesses are exploited due to our approach and I feel any defensive midfielder in the world would struggle covering that amount of area.
The best defensive midfielders in the game at the moment are generally believed to be Busquets and Matic.  But both of these players play in teams who are compact without the ball.  Chelsea don't have both full backs going forward at the same time or with the same attacking nature as we do.  Also Chelsea are extremely disciplined without the ball and Matic has far less space to cover than Lucas would do, due to the team compactness.
The below picture shows how compact Barcelona are as a team, which makes Busquets job easier.  Their centre backs push right up the field and even though the keepers positioning is extremely aggressive and high, it does show how much easier it is for a side to press this way.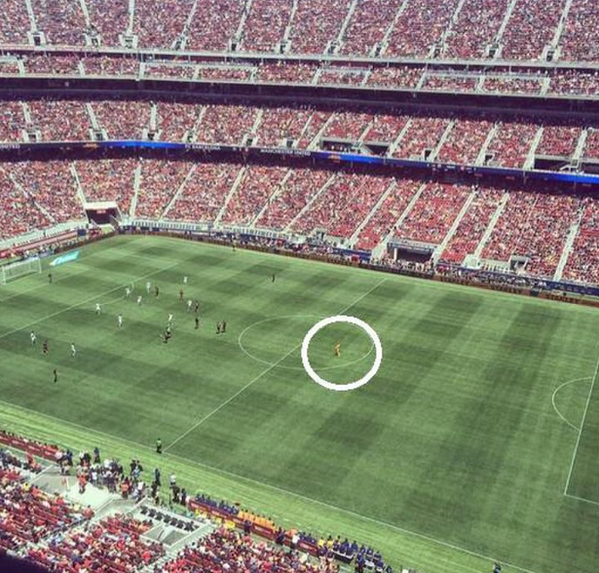 Chelsea don't play this way.  If anything they do the opposite and are compact in their own half, defending deep, in numbers, giving the opposition little space and then counter attacking.  Both of these ways are effective ways of pressing.  We however do neither!
By contrast, the openness of our game makes our centre backs look worse than they are.  John Terry last season was regarded the best centre back in the league.  However he get so much more protection than our centre backs do from the Chelsea midfield and full backs.  We saw John Terry really struggle when Andre Villas Boas was their manager and he was asked to play in a high defensive line and with less protection.  I think if you put John Terry in our team he would really struggle given the way we are set up defensively.  He would probably help us at defending set plays, due to his strength in the air.  However I think he would not like being asked to defend with less protection and having to split wide when we do have the ball.  This would make him vulnerable, just like it has done to all our centre backs.
In Rodgers three seasons at the club Liverpool are conceding on average of 47 goals in the league.  In that time he has had plenty of centre backs who have been part of successful defences in the past:
Carragher when we won the Champions League in 2005
Agger when we got to the Champions League Final in 2007
Skrtel was the regular partner with Carragher when we challenged for the title in 2008/9
Toure with the Arsenal 'Invincibles'
Lovren did with Southampton
Sakho has done with France
This suggests to me that the tactics are making these defenders look worse than they actually are, as they have all proven that they can be part of successful defences.
Rodgers has shown he is pragmatic in his willingness to change formations.  However what he won't do is change the way we play regardless of the formation.  The only time he has done this was last season against Real Madrid away and we changed our approach defending deep, narrow, compact and as a result it was probably our best defensive display of the season, with Kolo Toure being immense – probably liking the fact he had far more protection with those tactics.
I think defensively what is more important than a new defensive midfielder or centre backs, is a change of approach when we don't have the ball.  I'd like to see us either press high, with the centre backs pushing up the field (like Barcelona did under Guardiola), which would be best at home, or defending deeper and more compact as a team (like Chelsea do under Mourinho), which would suit us more away from home.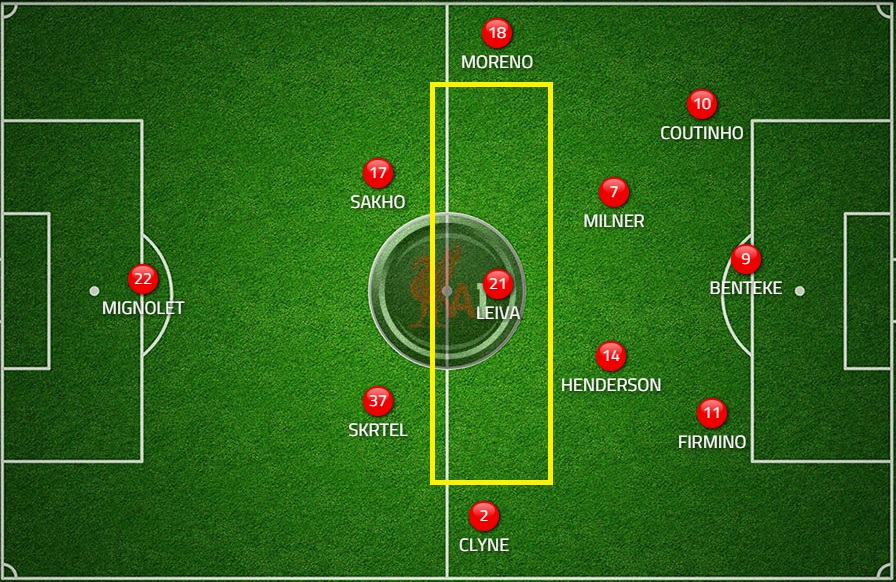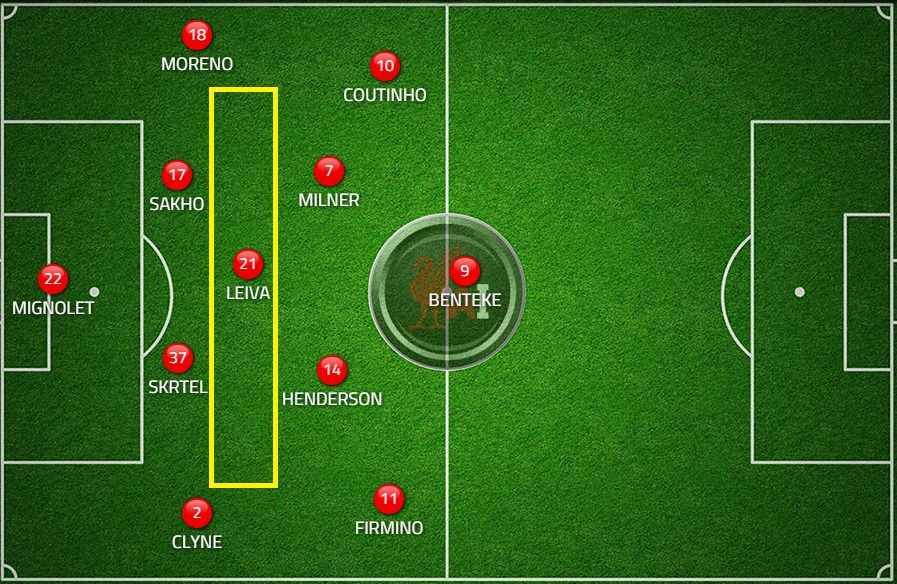 Currently our open approach is not working defensively and it hasn't for three years.  I don't feel we can press effectively as a team until it changes, despite having more energy in the squad.  As a result I fear we go into the new season looking as vulnerable defensively as we have done in the previous three seasons under Rodgers.
It is a pressing concerning going into the new season.  I have seen nothing in pre season, to suggest that we are going to do anything different in terms of how we set up without the ball.  Actually with the examples I have shown, we still look very open and vulnerable defensively due to this openness and I don't think we can press effectively as a team due to this.  It also makes our centre backs and defensive midfielder look worse, as they have so much more space to cover and less protection from the rest of the side.
When you add our lack of ability to defend set plays based on the last three years, I fear we are going to have to score a lot of goals to make up for the amount of goals we will concede.  If we are going to have a good season, I think Benteke, Firmino, Coutinho etc are going to have to paper over the cracks just like Suarez, Sturridge, Sterling and the team did two years ago scoring 101 league goals.  I can see why we are buying so many attacking players, because we'll need them given Rodgers won't change the way we defend.  The formation will change, but our openness won't and that is my fear heading into the new season!  Being open in possession is fine, but when we lose the ball we need to become far more compact or teams will exploit that space and pressing will be ineffective. I hope I'm wrong!